The verse before the Gospel today is a favorite of mine. "Even now, says the LORD, return to me with your whole heart; for I am gracious and merciful." I actually have a tattoo of a similar verse, "Whoever is in Christ is a new creation. The old has passed away, behold the new has come." Both verses speak of conversion. Conversion just simply means to turn away from one thing and to another. This act of turning shows a denial of a person, place or idea, and at the same time an affirmation of another person, place or idea. When I was in seminary to become a Franciscan, something that was talked about quite often was constant conversion. Sometimes I think we hear testimonies of people where their entire life changed in one moment and from there they never ceased loving God. But I don't think that happens most of the time. Most of the time we are called to this constant conversion where every day we have to meet the part of us that doesn't want to follow God. Our desires, our worries, our fears, we meet these head on and make the choice whether or not to turn.
The first reading from today is one of these moments of conversion. Azariah is crying out with passion for the Lord to have mercy on them. They have sinned and fallen short of the glory of God, but they are making the choice to turn. We also hear of the opposite in the Gospel. The master forgives the servant who owed a debt, but then that same servant goes and demands the debt from his own servant. He had a chance to start anew, to convert, but instead he went and demanded the debt to be paid.
The bible is riddled with stories of conversion. Abram to Abraham, Saul to Paul, Simon to Peter. But notice that these people, after they converted, still had many things they struggled with and sins they had to face. Peter was already turning to the Lord when he decided to turn away three times. So, I think especially during this time of Lent, the question we can ask ourselves is, are we taking every day to turn back to the Lord? Sometimes Lent can be difficult because we look at it as this 40 day chunk that we have to try to get through. But in a lot of ways, it should be no different from how we normally live. Of course, we are giving up extra things, fasting, and abstaining, but every day we should look at our life and ask, are we turning closer to God, or further away? Let's pray for the grace today and every day to turn even closer to him. From all of us here at Rodzinka Ministry, God bless!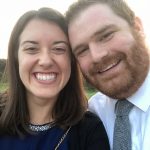 Tommy Shultz is the Founder/Director of Rodzinka Ministry and the Director of Faith Formation for the North Allegan Catholic Collaborative. In these roles, he is committed to bringing all those he meets into a deeper relationship with Christ. Tommy has a heart and flair for inspiring people to live their faith every day. He has worked in various youth ministry, adult ministry, and diocesan roles. He has been a featured speaker at retreats and events across the country. With a degree in Theology from Franciscan University, Tommy hopes to use his knowledge to help all people understand the beauty of The Faith. Contact Tommy at tommy@rodzinkaministry.com or check out his website at rodzinkaministry.com.
Feature Image Credit: Bobby Stevenson, https://unsplash.com/photos/Qc4YBIo-1Ro