In today's Gospel, Jesus tells us that we should pray with faith and persistence. When we pray faithfully and persistently, we admit how much we need God in our lives.
Oftentimes we think of persistence in prayer as continually asking God for the same thing until He gives it to us. Sometimes that looks like "I promise I'll stop gossiping if I get that promotion at work". Sometimes it looks more serious like, "I promise I'll come back to church if you allow my loved one to live through this disease". But I think the prayer Christ is speaking about is the prayer in which we genuinely ask for His will to be done in our lives. Christ says, "If you then, who are wicked, know how to give good gifts to your children, how much more will the Father in heaven give the Holy Spirit to those who ask him?"
We get so caught up in asking for material things, those things which we need most immediately, that we forget that the greatest gift God can give us is the Holy Spirit. When God doesn't grant us the sign we prayed for, we think He denied us our desire. But God's will is greater than our own and He knows what we need even when we do not. In those moments that we feel as though God has not given us what we prayed for, perhaps He has given us what we need: the Holy Spirit. Perhaps we have been granted the gift of the Holy Spirit in order to help us bear whatever cross we are carrying. We learn that ultimately, we need God and God alone.
Since I was very young, my mom has told me "God's delay is not God's denial". As a kid (and sometimes even now) that's a hard thing to accept. It helps to remember that His greatest gift to us is Himself and that is always enough.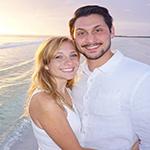 Dakota currently lives in Denver, CO and teaches English Language Development and Spanish to high schoolers. She is married to the love of her life, Ralph. In her spare time, she reads, goes to breweries, and watches baseball. Dakota's favorite saints are St. John Paul II (how could it not be?) and St. José Luis Sánchez del Río. She is passionate about her faith and considers herself blessed at any opportunity to share that faith with others. Check out more of her writing at https://dakotaleonard16.blogspot.com.