We are two days away from Christmas. Are you getting antsy for the arrival of Jesus, for visits with family and opening presents? I am, but I'm trying to slow down and savor this liturgical season.
Today's Gospel is a bit of a nudge to slow down. We're reminded that John the Baptist came before Jesus and taught us to prepare the way of the Lord. It's fitting then that we see the preparation of John's father, Zechariah, in Luke's Gospel today.
As you may remember, Zechariah prayed for his wife, Elizabeth, to have a child. While he was in the temple, the Angel Gabriel appeared to Zechariah and told him that Elizabeth would bear a son and that he would be called John (Lk 1:13). Zechariah, however, did not believe Gabriel or the promises that the angel relayed to him. Because of this disbelief, Gabriel silenced Zechariah (Lk 1:20).
In a way, Gabriel took Zechariah's speech but gave him a personal Advent – a season of waiting and expectation. We receive the fruit of Zechariah's advent today. Upon John's birth, he is presented in the temple on the eighth day according to Jewish tradition. At that time, he was also named.
When questioned about why Elizabeth intended to name their son John, Zechariah puts all questions to rest by an act of obedience. As the Angel Gabriel proclaimed that the child would be called John, Zechariah wrote, "His name is John" (Lk 1:63) on a tablet for all to see.
With this act of obedience, Zechariah's speech is restored and we receive the fruit of his quiet waiting – his offering of praise – "he spoke blessing God" (Lk 1:64).
Has your Advent been a time of waiting and expectation? Have you been a little quiet this season? Spend some time with Zechariah today and consider how even in the bustle of Christmas preparations you might prepare your heart, mind, and lips to receive Jesus on Christmas so that we may all emerge from this quiet season speaking "blessing to God" (Lk 1:64).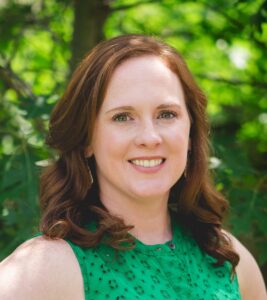 Elizabeth Tomlin is the author of Joyful Momentum: Building and Sustaining Vibrant Women's Groups and contributing author to the Ave Prayer Book for Catholic Mothers. She is General Counsel for the Archdiocese for the Military Services, USA. Elizabeth is an Army wife and mother of three and currently lives in the DC area. She blogs at JoyfulMomentum.org or @elizabethannetomlin on social media.
Feature Image Credit: Angie Menes, https://www.cathopic.com/photo/20783-esperando-venida-senor