Light: "having a considerable or sufficient amount of natural light; not dark." -Dictionary.com
We have all heard it a million times. We are supposed to be light. Don't hide your gifts under a bushel basket. Christ is the light of the world. But what do all of these phrases really mean? Have we allowed them to lose their depth because they are so commonplace?
I think we tend to think of light solely in terms of it brightening something like we see in the first part of the definition above, but I like to think of it not just as illuminating, but as an addition that was not there before. See, dark is not a shade in and of itself, it is the absence of something. It's the same with sin. Sin is not its own character; it is the absence of good.
Ok, so light is an addition that destroys dark as grace is an addition that destroys sin. Both light and grace are added and cast out that which already lacked. This seems a little heady, but it's so important. When we are meant to be a light to the world, as the second reading suggests, we are literally meant to add something to the world in order to get rid of a lack. But what can we add if we are fallen human beings? The answer? Grace.
God has given us his grace and repaired our relationship with his divine love. Now we look around, especially today, and see so much darkness, turmoil, fear, anxiety, pain, and worry. Walking into this alone would quite certainly put our light out, we would have nothing in and of ourselves to add. But coming into it with the grace of God, nothing can stop us. There is no void so great that it can't be filled with the grace of God.
Do we really believe that? Will we take this to heart. Or will we just imagine that God is like the little coloring book picture of the candle that we drew in Sunday School? Does God's grace have real power or not? Cause if it does, now is the time to illuminate the depths with his love. I want to make the bold statement that it does and that it can defeat any darkness we encounter today, virus or otherwise. Who is with me?
God Bless!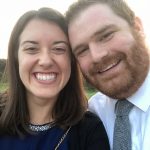 Tommy Shultz is Director of Evangelization for the North Allegan Catholic Collaborative and the founder of Rodzinka Ministries. In these roles, he is committed to bringing all those he meets into a deeper relationship with Christ. Tommy has a heart and a flair for inspiring people to live their faith every day. He has worked in various youth ministry, adult ministry, and diocesan roles. He has been a featured speaker at retreats and events across the country. His mission and drive have been especially inspired by St. John Paul II's teachings. Tommy is blessed to be able to learn from the numerous parishes he visits and pass that experience on in his presentations. With a degree in Theology from Franciscan University, Tommy hopes to use his knowledge to help all people understand the beauty of The Faith.