We made a lot of changes in our family this past year due to "you know what". As the playgrounds, the library, the bouncy houses and the schools closed, we sought alternate ways to keep our young boys happy and occupied. Let me tell you, with the amount of energy they have that is no easy task!
One thing we discerned was moving to a smaller house with a bigger yard. Although we never dreamed we would end up at our current location, it has been such a blessing as we watch our sons play outside for hours every day. They make forts between the pines, jump from landscaping rocks, compete in countless soccer matches, and race their bikes up and down the empty side street.
But perhaps one of the biggest blessings has been watching their minds and hearts expand as they learn at home. My oldest is preparing for his First Communion this year and has been watching stories about the saints on EWTN. I invited him to teach me a few things about them as well so he excitedly quizzes me about their lives. He also insists on reading from the children's Bible each night during story time. And after a playful tap on the head by our Pastor declaring him a future priest, he is now considering a vocation.
We can learn so much from the heart of a child and also from our saints. Today we celebrate St. Teresa of Jesus (Avila). She was "a woman of prayer, discipline, and compassion. Her heart belonged to God. Her ongoing conversion was an arduous lifelong struggle, involving ongoing purification and suffering." (franciscanmedia.org). She is one of the first women to be named a Doctor of the Church.
Paul, another great saint, paints a picture of holiness for us in today's First Reading: "…he chose us in him, before the foundation of the world, to be holy and without blemish before him. In love he destined us for adoption to himself…In Christ we have redemption…he has made known to us the mystery of his will…"
This tells us two things: 1) that we are called to be holy by following His will, and 2) that this is only possible through and in Him. Our pride can tempt us to believe that holiness is achieved through our own merit. While avoiding sin is certainly necessary to obtain our eternal reward, only the grace of God can help us do that. We so easily fall back into our old habits. It is only through Him and with Him that we can win the constant battle of good vs. evil in our own hearts.
So, I invite you to dig into today's readings and perhaps look up the life of St. Teresa of Jesus. Which words and which virtues jump out at you? What step toward holiness could God be calling you to take today?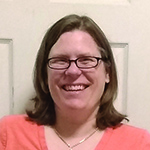 Tami Urcia grew up in Western Michigan, a middle child in a large Catholic family. She spent early young adulthood as a missionary in Mexico, studying theology and philosophy, then worked and traveled extensively before finishing her Bachelor's Degree in Western Kentucky. She loves tackling home improvement projects, finding fun ways to keep her four boys occupied, quiet conversation with the hubby and finding unique ways to love. She works at Diocesan, is a guest blogger on CatholicMom.com and BlessedIsShe.net, runs her own blog at https://togetherandalways.wordpress.com and has been doing Spanish translations on the side for almost 20 years.