The Wedding Feast at Cana is one of the more well known Scripture passages. This is Jesus' first public miracle in the Gospel of John, albeit a reluctant one. As I reflected on this passage, I found myself drawn in by the sheer number of people at play in it.
There are the obvious characters – Jesus and Mary. Then there's the wedding couple, the disciples, the guests and the head waiter. There are also the servants. There's a whole lot of activity in these few verses. Mary comes to Jesus, He protests. The servants have to fill very large pots with water (for a second time as these were already used once for the guests to purify themselves before the meal), the miracle itself and the drinking that followed. It is easy to get caught up in the anticipation of the moment, Scripture coming to life in our mind's eye.
In the midst of the swirl and joy of the new wine, I found the extra note in v.9 about the servants to be most fascinating. While yes, this was Jesus' first public miracle, who exactly knew about it? Not the head waiter. Which means not the couple or the guests. We assume the disciples knew, but aren't told by the Gospel writer. Who, precisely, knew about the miracle of water turned into wine? The servants and Mary. Only those who actively participated in the miracle knew what had happened.
It should not come as a surprise that Jesus chose to reveal His power to the lowly, to the poor, rather than to the guests. He could have easily turned this miracle into a show of His great power, commanding the vessels be placed in the center of the party for all to see. Though Mary isn't specifically mentioned after her request, how could she not know? She doesn't announce her son's greatness, boasting in His accomplishments. Rather she, I imagine, sits quietly in the background, marveling at His generosity as she cups her miracle wine.
This being His first miracle, I see Jesus setting the tone for what is to come. His miracles are for all people, even those who serve, especially those who serve. The servants followed Jesus' request, though I'm sure they did not understand it. Their obedience was rewarded with knowledge others only learned of later.
What is Jesus asking of you today? What task is repetitive, simple, or unglamorous to your eyes? Could it be that Jesus is waiting for your vessel to be filled so that He can transform it into something miraculous? Let's all spend today being faithful to the calling Jesus has given to us, offering it to Him with open hands. Let Jesus take your work today and transform it for His purpose and glory.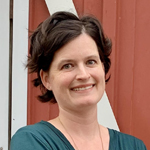 Kate Taliaferro is an Air Force wife and mother. She is blessed to be able to homeschool, bake bread and fold endless piles of laundry. When not planning a school day, writing a blog post or cooking pasta, Kate can be found curled up with a book or working with some kind of fiber craft. Kate blogs at DailyGraces.net.
Feature Image Credit: Karolina Grabowska, https://www.pexels.com/photo/woman-in-white-long-sleeve-shirt-holding-clear-glass-pitcher-with-water-4965571/