The word vocation comes with a lot of baggage. It tends to bring to my mind old posters of seminarians, half of whom have dropped out by now but the poster remains, or conjures up ideas of job, work, occupation, etc. It's one of those words similar to stewardship where we have made it mean so many things, that it almost means nothing. It is stretched thin in its general form but at the same time so focused in its particular form that it becomes exclusive to a specific group.
Today I want to focus on the first reading which perfectly summarizes both stewardship and vocation.
"Thus says God, the LORD, who created the heavens and stretched them out, who spreads out the earth with its crops, Who gives breath to its people and spirit to those who walk on it: I, the LORD, have called you for the victory of justice, I have grasped you by the hand; I formed you, and set you as a covenant of the people, a light for the nations, To open the eyes of the blind, to bring out prisoners from confinement, and from the dungeon, those who live in darkness."
What can we take from this? First, God is the creator of all things. Anything we have including the breath in our lungs and our family and friends is all due to God being Gift. Next, we see that we are called. This calling comes from God and fits with the gifts God has given us. What is the calling? To be a light to the nations.
John Paul II realized this well when he said, "The fundamental vocation of every human person is to love." Our general vocation is to love, our particular vocation is how God has called us specifically to do it. While I was discerning the priesthood in seminary, one of the most helpful things I was told was that our vocation is the way that God has called us to get to heaven and bring the most people with us.
Now, most people reading these posts are probably thinking that you are already well into the particular vocation that God has given you. Maybe you don't need to discern this part, but I think we all could breathe fresh air into our vocations with the general vocation of love. I like to think of this in terms of Jesus going into the desert. As we are in Lent, we contemplate how Jesus knew his particular vocation, but he took time to pray before entering into his public ministry.
With all the focus we have on self help and care I think it's important to use these models for our vocation as well. If stewardship is using the gifts God has given us in service, then first we must work on our relationship with God, then take this grace and apply it to our gifts, and finally we will have the power needed in order to be a light to the nations. Lent is the perfect time to try this model out. Let's pray for the gifts in order to be a gift to others and fully live out our calling to love.
From all of us here at Diocesan, God bless!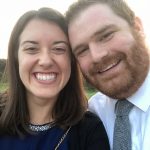 Tommy Shultz is a Business Development Representative for Diocesan. In this role he is committed to bringing the best software to dioceses and parishes while helping them evangelize on the digital continent. Tommy has worked in various diocese and parish roles since his graduation from Franciscan University with a Theology degree. He hopes to use his skills in evangelization, marketing, and communications, to serve the Church and bring the Good News to all. His favorite quote comes from St. John Paul II, who said, "A person is an entity of a sort to which the only proper and adequate way to relate is love."
Feature Image Credit: Aaron Burden, https://unsplash.com/photos/lPCu8HnGU2E