Today is Palm Sunday. In the Gospel, we read about the Last Supper and the institution of the Eucharist. At the table, Christ took the bread, raised it, and said to His Apostles: "This is my body, which will be given for you; do this in memory of me." And then He took the cup, saying: "This cup is the new covenant in my blood, which will be shed for you."
This was not the only time Christ said something like this to His followers. In the Gospel of John, He told them: "Unless you eat the flesh of the Son of Man and drink his blood, you do not have life within you. Whoever eats my flesh and drinks my blood has eternal life, and I will raise him on the last day. For my flesh is true food, and my blood is true drink."
As Catholics, we believe in transubstantiation—that through the priest, God really does send a miracle at every Mass. The bread and wine become the body, blood, soul, and divinity of Christ.
Christ did not say that He wanted the bread and wine to just be mere symbols of Him. He told us that they are His body and blood. He told us that He is the living bread. In fact, His birth in Bethlehem foreshadowed this, as the name Bethlehem literally means house of bread.
It is an awesome privilege and blessing that we, as Catholics, can receive Him every single day—if we are free of mortal sin.
Yet, a 2019 Pew Research survey tells us that just one-third of Catholics believe in the real presence of Christ. Why is this? It's because they have not been properly catechized.
So what are we to do? First, we understand and believe. Second, we teach—our children, our families, our friends, and our fellow parishioners. We must all take it upon ourselves to speak up and defend Christ in the Eucharist.
Christ gives Himself to us to nourish and renew us, but we must be worthy of this wonderful gift. How do we make ourselves worthy? We must be free of all mortal sin. This isn't a suggestion. This is part of our Catechism, which teaches: "Anyone aware of having sinned mortally must not receive Communion without having received absolution in the sacrament of penance."
Anyone who has committed a mortal sin and who has not sought forgiveness in the confessional should not present himself for Communion until he has been to confession. This is so because God has given us the most phenomenal gift imaginable—Himself.
So, today, as we think about that Last Supper and Christ's sacrifice, let us not only thank Him for that sacrifice but for the gift of Himself in the Eucharist at every Mass.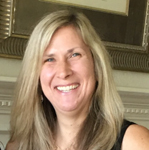 Susan Ciancio has a BA in psychology and a BA in sociology from the University of Notre Dame, with an MA in liberal studies from Indiana University. For the past 17 years, she has worked as a professional editor and writer, editing both fiction and nonfiction books, magazine articles, blogs, educational lessons, professional materials and website content. Eleven of those years have been in the pro-life sector. Currently Susan freelances and writes weekly for HLI, edits for American Life League, and is the editor of Celebrate Life Magazine. She also serves as executive editor for the Culture of Life Studies Program-an educational nonprofit program for K-12 students.
Feature Image Credit: emiliogb, https://www.cathopic.com/photo/17727-jesus-doble-entrega