Lately, I have been listening to the soundtrack from the musical Hamilton. The song sung by Aaron Burr, Wait For It, has been especially captivating. The song is about how Burr has hopes and dreams, but also feels the weight of needing to leave some kind of legacy. In the tension between wants and oughts, he finds himself unable to pick sides. He keeps his opinions to himself, never fully committing to one side or the other for fear of choosing wrongly. This feature song expresses his desire to be patient, waiting for the moment he was made for, the time he's supposed to shine.
The problem with waiting like Burr is that very often, the moment you're waiting for passes you by. Perhaps you don't recognize it for what it is, since you are so in the habit of waiting for what could be coming next. Or, you never see the moment because in order for it to arrive you had to make a hard choice in one direction or the other.
In our Gospel today, Bartimaeus is begging on the side of the road. He is blind, but hears the crowd approaching. His ears pick up the words, "It is Jesus!" "Jesus of Nazareth is coming! Quick, get your mother/father/sister/brother so He can heal them!"
Bartimaeus has been waiting, and waiting, and waiting to be healed. He is at a crossroads. Will he lean into hope, or be held back by despair? If he calls out, will anyone hear him? He doesn't have anyone to advocate for him, no one to draw attention to his case. The crowd is huge, even he can tell that. How could Jesus even hear him, let alone see him?
But he does call out an act of faith and hope. He is pushed aside, others tell him to sit back down, and stay in his place. "Who are you to ask for a miracle? Why should Jesus heal you?"
A greater act of faith and hope, a defiant one even in the midst of the crowd's rejection: "Son of David, have pity on me!"
Bartimaeus is bold. His call to Jesus is one with multiple acts of faith. First, he has faith Jesus will take pity on him and stop at all. Second, that Jesus' pity will move Him to restore Bartimaeus' sight. Third, and perhaps most important, Bartimaeus doesn't just call Jesus, "Jesus". He names Him as the "Son of David", a title which points toward Jesus' identity as the Messiah.
Bartimaeus did not wait for the perfect moment. He was not timid nor lukewarm in his request. Bartimaeus is a model for all of us to boldly proclaim Jesus' identity as the Lord of our lives and in Him do we place our hope and trust. We should not wait for things to be perfect before coming to God with our hopes and dreams. The perfect moment is the moment we bring them to God, trusting in His mercy and love.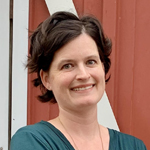 Kate Taliaferro is an Air Force wife and mother. She is blessed to be able to homeschool, bake bread and fold endless piles of laundry. When not planning a school day, writing a blog post or cooking pasta, Kate can be found curled up with a book or working with some kind of fiber craft. Kate blogs at DailyGraces.net.
Feature Image Credit: Lucas Pezeta, https://www.pexels.com/photo/crop-person-outstretching-hand-in-forest-3772365/