In today's First Reading St. Paul refers to a verse from the great prophet who accompanies us through every Advent: the prophet Isaiah (flourished 8th century B.C., Jerusalem): How beautiful upon the mountains are the feet of those who bring good news….
The entire verse found in the book of Isaiah reads this way:
Therefore my people shall know my name
on that day, that it is I who speaks: Here I am!
How beautiful upon the mountains
are the feet of the one bringing good news,
Announcing peace, bearing good news,
announcing salvation, saying to Zion,
"Your God is King!" (Isaiah 52:6-7)
Those beautiful feet that Isaiah envisions came running to me in a restaurant parking lot last week where our family was gathering for a final meal before we placed mom in memory care in a facility where we could visit her daily. I was walking alone. "Hey, sister, is school out today?" a woman called out cheerfully. I laughed and shared with her the sorrow that was in my heart. "That is so hard," she responded. "I promise you my prayers. I always ask God to take my body before my mind." Then she continued with a mischievous smile, "But I tell my kids, don't be afraid to put me in a nursing home at the end. If I have my mind it will be my last chance to evangelize. If I don't have my mind I won't know anyway." Then she surrounded me with a great hug before going on her way.
"Beautiful feet…"
In the last meeting we had with the administrator on the previous day, she had said to my dad, "You have cared for your wife with great love till now. We are here to help you now. But in the end, even though we think we are the ones caring for her, we are the ones responsible, it is really God who is caring for her. God who is responsible for her. We are all just helpers."
"Beautiful feet…"
Those who bring us the good news have beautiful feet because they are partnering with God to bring joy and salvation to others. Those feet that are actively moving about represent the way the Gospel reaches us in surprising places, through unexpected people, in exactly the right moment to assure us of God's presence and God's protection and God's tender love for us.
Therefore my people shall know my name
on that day, that it is I who speaks: Here I am! (v. 6)
Today is the feast of St Andrew and we celebrate liturgically the calling of this great apostle who in his turn became the beautiful feet that announced the good news to any and all who would listen.
You, too, can be the one who in beautiful ways brings the good news to someone else, in a parking lot, in a meeting, in a moment of confusion or sorrow or grief.
At some times you will be the one who announces the news that God says through you, "Here I am!" At other times you will be the one who receives the message of God reaching out to you through someone else. God whispered quietly in my heart, "You know, Kathryn, I love your mom too." I had to let her go and give her to God's very capable hands and hide her in his heart.
So I end with this Advent reminder: Every year Advent and Christmas is a relearning that God is saying HERE I AM! We have a month to receive this message into our very bones so that we can in the new year be the beautiful ones who carry this message to others throughout the coming year. Or maybe someone needs your beautiful feet to find them today.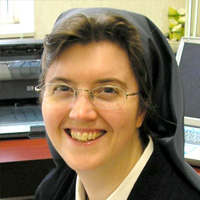 Kathryn James Hermes, FSP, is the author of the newly released title: Reclaim Regret: How God Heals Life's Disappointments, by Pauline Books and Media. An author and spiritual mentor, she offers spiritual accompaniment for the contemporary Christian's journey towards spiritual growth and inner healing. She is the director of My Sisters, where people can find spiritual accompaniment from the Daughters of St. Paul on their journey. Website: www.touchingthesunrise.com Public Facebook Group: https://www.facebook.com/groups/srkathrynhermes/ For monthly spiritual journaling guides, weekly podcasts and over 50 conferences and retreat programs join my Patreon community: https://www.patreon.com/srkathryn.
Feature Image Credit: Wil Bolaños, https://www.cathopic.com/photo/24775-corona-adviento