We hear in today's reading and Gospel about the importance of not just prayer, but persistence in prayer. Queen Esther spends the day praying to God for help in freeing her enslaved people, the Jews. She is described as being in "mortal anguish" as she lay on the ground begging God to give her the right words. This passage is just the beginning of a much longer prayer but in it we see elements of a perfect prayer. She begins by praising and blessing God. She knows he is the God of her forefathers and that he answers prayers. She acknowledges – twice – that she is alone and dependent on God. She approaches him with humility and faith in his good will.
Then she asks God for what she desires – help in saving her people from death. Her husband, the king and his chief minister were planning to kill all the Jews in the empire. Being Jewish herself, Esther couldn't let this happen and knew she was in a position to help but she didn't know how. So she turned to God fully believing that as he had saved the Jews in the past, he would do so again. She knew that it would be him working through her that would save them.
Today's Gospel follows the theme of persistence in prayer. Jesus exhorts us to ask, seek, and knock. He assures us we will receive and draws the parallel of God as our father. If we as sinful people, would grant our own children's request, so much more will the perfect Almighty Father give good things to us. Jesus assures us all we need to do is ask him.
We can be bold in approaching the Father because Jesus came to earth to restore our broken relationship with God. He is the door to our Father; he is the Way. God is not an unreachable deity in the sky who sits dispassionately in judgment. Rather he is a loving Father who desires good for us. Does this mean we can ask for and receive a money tree for our backyard or anything else equally silly? No. What it means is that we can go to Him in prayer, praising him, thanking him, and knowing he sees us and hears us. With our faithful hearts we believe that while we may not get what we think we want, we will get what God knows we need and that is always perfect.
We are blessed to be the children of a Father who will not be outdone in generosity. When we go to him, whether it is in sorrow, fear, confusion, or anxiety, we are assured that he is with us and will give us what we need to continue to grow more in love with him.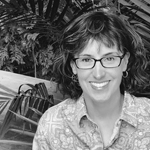 Merridith Frediani's perfect day includes prayer, writing, unrushed morning coffee, reading, tending to dahlias, and playing Sheepshead with her husband and three kids. She loves finding God in the silly and ordinary. She writes for Ascension Press, Catholic Mom, and her local Catholic Herald in Milwaukee. Her first book Draw Close to Jesus: A Woman's Guide to Eucharistic Adoration is expected to be released summer 2021. You can reach her at merridith.frediani@gmail.com
Feature Image Credit: waldryano, https://pixabay.com/photos/woman-praying-prayer-faith-1932952/