We are in the middle of Lent. How is it going? Phenomenally great? Meh? Either way, we continue to move forward, and today's Gospel is a big help. Jesus tells us what we need to do to be called the greatest in the kingdom. Follow the commandments and teach them to others. You see, there is no point in knowing the way to heaven and what the Good News is if we don't share it with others. It is not necessary to have a degree in theology or speak with great eloquence. What is necessary is to be you, to be authentic; to live your life the way God intends. And how is that? I think most of us are called to live and serve in a community. Your family is your community. Your workplace, your parish, and your neighborhood are also communities where we live and serve with others.
It's a good idea to know the Commandments Jesus is referring to, those God gave to Moses. You can find them in Exodus 20:2-17 and in the Catechism of the Catholic Church, Part 3, Section 2.
The Commandments are like guardrails; they keep us on the safe part of the road. I once drove every day to and from work on a road flanked by canals. I was grateful for those guardrails because they kept me from the canal, where we would occasionally see alligators! In life, there are many distractions and even dangers outside the guardrails of the Commandments. That is why we have them, not to confine us but to keep us safe.
Jesus reminds us today to keep safe and to pass on what we know to others. I think that is a great way to spend time during Lent!
---
Estamos en plena Cuaresma. ¿Cómo va? ¿fenomenalmente genial? ¿Más o menos? De cualquier manera, seguimos avanzando, y el Evangelio de hoy es una gran ayuda. Jesús nos dice lo que debemos hacer para ser llamados los más grandes en el reino. Seguir los mandamientos y enseñarles a los demás. Verás, de nada sirve saber el camino al cielo y cuál es la Buena Nueva si no la compartimos con los demás. No es necesario ser licenciado en teología ni hablar con gran elocuencia. Lo necesario es ser tú, ser auténtico; para vivir tu vida de la manera que Dios quiere. ¿Y cómo es eso? Creo que la mayoría de nosotros estamos llamados a vivir y servir en comunidad. Tu familia es tu comunidad. Su lugar de trabajo, su parroquia y su vecindario también son comunidades donde vivimos y servimos con otros.
Es bueno conocer los Mandamientos a los que se refiere Jesús, los que Dios le dio a Moisés. Puedes encontrarlos en Éxodo 20,2-17 y en el Catecismo de la Iglesia Católica, Parte 3, Sección 2.
Los Mandamientos son como barandillas; nos mantienen en la parte segura del camino. Una vez conducía todos los días al trabajo en una carretera flanqueada por canales. ¡Estaba agradecida por esas barandillas porque me mantenían alejado del canal, donde ocasionalmente veíamos caimanes! En la vida, hay muchas distracciones e incluso peligros fuera de las barandillas de los Mandamientos. Por eso los tenemos, no para confinarnos sino para mantenernos a salvo.
Jesús nos recuerda hoy que nos mantengamos seguros y transmitamos lo que sabemos a los demás. ¡Creo que es una excelente manera de pasar el tiempo durante la Cuaresma!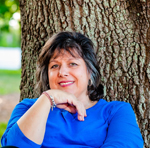 Deanna G. Bartalini, M.Ed.; M.P.A., is a certified spiritual director, writer, speaker and content creator. The LiveNotLukewarm.com online community is a place to inform, engage and inspire your Catholic faith. Her weekly Not Lukewarm Podcast gives you tips and tools to live out your faith in your daily life.
Feature Image Credit: Hogarth de la Plante, https://unsplash.com/photos/7-pLwj1ZF58