"Do not be afraid, Mary."
Through the centuries, the Annunciation has inspired many artists who have sought to capture in their paintings this most sacred and pivotal moment in the history of the world. My favorite is The Annunciation, painted in 1898 by the American artist Henry Ossawa Tanner. The artist seems to capture the intensity and fire of the angel Gabriel's appearance to the young Mary. I can't decide if Tanner is depicting Mary's first startled awareness at what God was asking of her or her sinking under the weight of what this message would mean for her life. Her hands folded, she is already pondering, storing away in her heart what God was doing.
So many masterpieces of the Annunciation portray the young virgin Mary in a religious setting where all seems peaceful and simple. But Tanner, I believe, captures the words of the angel, "Do not be afraid, Mary."
We cannot imagine that this girl, barely a teenager, would not have been concerned or apprehensive about the role that she was to carry out in salvation history. There were many unknowns that the angel didn't clear up for her. Gabriel didn't point out a way forward or explain to her how Joseph was going to find out about the child. What would her parents think? Her friends? Would she be able to share this with anyone? Would anyone be able to walk this way with her and show her the next steps she should take? The Messiah. The Son of the Most High. The one who would sit upon the throne of David and rule over the house of Jacob forever. The one whose kingdom would have no end.
It is hard to think that this young girl walked with ease and security into the rest of that Annunciation day with total confidence about what was happening to her. Throughout every day of her life, I can imagine her recalling the words as she heard them from the angel, "Do not be afraid, Mary."
When she and Joseph realized Jesus was lost, "Do not be afraid, Mary."
When Jesus left home to begin his public life, "Do not be afraid, Mary."
When she saw the growing discontent and disapproval directed at Jesus by the religious leaders, "Do not be afraid, Mary."
When she stood beneath the cross, "Do not be afraid, Mary."
This beautiful account of what happened at the Annunciation, probably told to Luke by Mary herself, concludes with her yes, "Behold, I am the handmaid of the Lord. May it be done to me according to your word." Then the passage transitions back into ordinary life with the almost ominous sentence, "Then the angel departed from her." She was left alone.
We are told of no angel leading her back into Jerusalem to find her son. We read of no angels providing for her needs after Joseph had died and Jesus had left home to pursue his public ministry. The Gospel does not assure us that Mary had special revelations from further angels that everything was going to be okay as the religious leaders sought to put her son to death. We see no angels supporting her beneath the cross. Only John who stood in for you and me as Jesus gave us his mother to be our mother. No. The angel departed from her.
There must have been not a few moments of wondering, worry, anxiety, sorrow alongside the strong faith, the determined surrender, and the rejoicing with which she continued to magnify the Lord. Somehow Mary was able to hold in her heart, to ponder and pray and believe and hope even as she wondered and worried in the uncertainty of all that was happening. As I look at Tanner's Annunciation, this is the message I tuck away in my own heart. When I worry and wonder and doubt and fear I usually forget to ponder and pray and believe and hope. Mary was able to hold together the whole picture: the whole picture of what was happening in her own life, in the life of her Son, of her people, of history, of God's work of salvation. She didn't have a selective memory. She remembered everything and trusted everything and entrusted herself entirely into the unknown of the radical newness of what God was accomplishing in her for the sake of the world.
I struggle to do this, and perhaps so do you. In whatever strained circumstances or difficult situations that cause you anxiety and doubt today, remember the angel's words, "Do not be afraid."
---
"No temas, María".
A través de los siglos, la Anunciación ha inspirado a muchos artistas que han buscado capturar en sus pinturas este momento tan sagrado y fundamental en la historia del mundo. Mi favorito es The Annunciation, pintado en 1898 por el artista estadounidense Henry Ossawa Tanner. El artista parece captar la intensidad y el fuego de la aparición del ángel Gabriel a la joven María. No puedo decidir si Tanner está representando la primera toma de conciencia de María sobre lo que Dios le estaba pidiendo o si ella se hunde bajo el peso de lo que este mensaje significaría para su vida. Con las manos cruzadas, ya está meditando, guardando en su corazón lo que Dios estaba haciendo.
Tantas obras de arte de la Anunciación retratan a la joven Virgen María en un ambiente religioso donde todo parece pacífico y sencillo. Pero Tanner, creo, capta las palabras del ángel: "No temas, María".
No podemos imaginarnos que esta niña, apenas una adolescente, no se hubiera sentido preocupada o aprensiva por el papel que iba a desempeñar en la historia de la salvación. Había muchas cosas desconocidas que el ángel no le aclaraba. Gabriel no señaló un camino a seguir ni le explicó cómo Joseph iba a averiguar sobre el niño. ¿Qué pensarían sus padres? ¿Sus amigos? ¿Sería capaz de compartir esto con alguien? ¿Alguien podría caminar por este camino con ella y mostrarle los próximos pasos que debe tomar? El Mesías. El Hijo del Altísimo. El que se sentaría en el trono de David y reinaría sobre la casa de Jacob para siempre. Aquel cuyo reino no tendría fin.
Es difícil pensar que esta joven caminó con tranquilidad y seguridad el resto del día de la Anunciación con total confianza en lo que le estaba pasando. A lo largo de cada día de su vida, puedo imaginarla recordando las palabras que escuchó del ángel: "No temas, María".
Cuando ella y José se dieron cuenta de que Jesús se había perdido, "No temas, María".
Cuando Jesús salió de la casa para comenzar su vida pública, "No temas, María".
Cuando vio el creciente descontento y la desaprobación dirigida a Jesús por parte de los líderes religiosos, "No temas, María".
Cuando estuvo bajo la cruz, "No temas, María".
Este hermoso relato de lo que sucedió en la Anunciación, probablemente contado a Lucas por la misma María, concluye con su sí: "Yo soy la esclava del Señor; cúmplase en mí lo que me has dicho." Luego, el pasaje vuelve a la vida ordinaria con la frase casi siniestra: "Y el ángel se retiró de su presencia." Ella se quedó sola.
No se nos dice que ningún ángel la condujo de regreso a Jerusalén para encontrar a su hijo. No leemos que ningún ángel suplió sus necesidades después de que José falleció y Jesús se fue de la casa para continuar con su ministerio público. El Evangelio no nos asegura que María tuvo revelaciones especiales de otros ángeles de que todo iba a estar bien mientras los líderes religiosos buscaban matar a su hijo. No vemos ángeles que la apoyen debajo de la cruz. Solo Juan, quien nos sustituyó a ti y a mí cuando Jesús nos dio a su madre para que fuera nuestra madre. No. El ángel se retiró de su presencia.
Debió haber muchos momentos de asombro, preocupación, ansiedad, dolor junto con la fe fuerte, la entrega decidida y el regocijo con el que continuaba magnificando al Señor. De alguna manera, María pudo contener en su corazón, meditar y orar, creer y esperar, incluso mientras se preguntaba y se preocupaba por la incertidumbre de todo lo que estaba sucediendo. Mientras miro a The Annunciation de Tanner, este es el mensaje que guardo en mi propio corazón. Cuando me preocupo, me pregunto, dudo y temo, por lo general me olvido de meditar, orar, creer y esperar. María pudo mantener unida la imagen completa de lo que estaba sucediendo en su propia vida, en la vida de su Hijo, de su pueblo, de la historia, de la obra de salvación de Dios. Ella no tenía una memoria selectiva. Recordaba todo y confiaba en todo y se entregaba enteramente a lo desconocido de la novedad radical de lo que Dios estaba realizando en ella por el bien del mundo.
Batallo por hacer esto, y quizás tú también batallas. En cualquier circunstancia tensa o situación difícil que te provoque ansiedad y dudas hoy, recuerda las palabras del ángel: "No temas".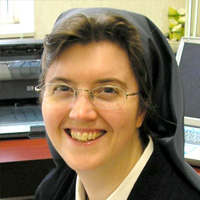 Sr. Kathryn James Hermes, FSP, is an author and offers online evangelization as well as spiritual formation for people on their journey of spiritual transformation and inner healing. Website: www.touchingthesunrise.com My Books: https://touchingthesunrise.com/books/
Public Facebook Group: https://www.facebook.com/groups/srkathrynhermes/ HeartWork Spiritual Formation Group: https://touchingthesunrise.com/heartwork/
Feature Image Credit: Henry Ossawa Tanner, wikimedia.org/wikipedia/commons/a/ac/Henry_Ossawa_Tanner_-_The_Annunciation.jpg