During this season of Lent we tend to focus on the Gospels and the life of Christ, especially leading up to his death. This, of course, is of the utmost importance for us as Christians. But we should also look back into the Old Testament and see that from the very beginning God had this plan to come and die for us. We can see, even back in the time of Moses, a certain foreshadowing of the Messiah.
Today's First Reading is a perfect example of this. Here we have God about to inflict wrath on the people who continually disobey him. This wrath would be justified and God, as the creator of all things, has every right to decide when someone will live or die. But instead, we see Moses coming to the defense of his people. He reminds God of the covenant he made with Abraham and about the fact that his descendants would be as numerous as the stars. That would not be possible if they were all wiped off the face of the earth.
Some may look at this passage and think that Moses is convincing God not to smite his own people. Does God change his mind? I like to look at this verse in a different context. Of course God knows what he is going to do. Human beings do not change the perfect will of God. What I get from this passage is that God is teaching Moses how important it is for them to have a human advocate. Someone who can commune with God on their behalf.
Fast forward to the time of Christ and this is exactly what we receive. Not only do we have an advocate who takes our needs and wants to the Father, with the Holy Spirit, but this advocate is God himself. We not only have a prophet, we have THE prophet. Jesus doesn't just come to talk about our salvation, he is our salvation. We can tend to look at the Old Testament as a different God than the New Testament. As if all of a sudden Jesus comes and convinces God to be less harsh. But we must realize that the Trinity exists from the beginning. The God of the Old and New Testaments is the same and God desires all men to be saved.
So when we read passages like our First Reading where it seems like God wants to wipe everyone out, I prefer to read it as God teaching the importance of a savior. We are fallen humans and we do not deserve salvation. God has every right to wipe us all out if he wants, after all, he created us. It's like the old phrase, "I brought you into this world and I can take you out." But instead of wiping us out and starting over, like he did with the flood, he hears the cry of the advocate. He hears the cry of Moses. He hears the cry of Christ hanging on the cross. We may be fallen, we may be weak, we may even sin horribly at different times, but God loves us so much that he didn't just send us a prophet to talk to us about God, he sent himself.
As we get closer and closer to holy week I think it's important to reflect on the love of the Father (though he could just be done with us at any second), the sacrifice of Christ on the cross for our sins, and the protection we have of the Holy Spirit who keeps us on the right path. God desires that we all are saved. He does not prefer wrath to mercy. So let's take some time to thank God for not giving up on us, and for taking it a step further and becoming one of us to be our advocate and to allow us to one day share in his eternal glory.
From all of us here at Diocesan, God bless!
---
Durante esta temporada de Cuaresma, tendemos a centrarnos en los Evangelios y la vida de Cristo, especialmente antes de su muerte. Esto, por supuesto, es de suma importancia para nosotros como cristianos. Pero también debemos mirar hacia atrás en el Antiguo Testamento y ver que desde el principio Dios tenía este plan de venir y morir por nosotros. Podemos ver, incluso en la época de Moisés, un cierto presagio del Mesías.
La Primera Lectura de hoy es un ejemplo perfecto de esto. Aquí tenemos a Dios a punto de infligir la ira sobre las personas que continuamente lo desobedecen. Esta ira estaría justificada y Dios, como creador de todas las cosas, tiene todo el derecho de decidir cuándo alguien vivirá o morirá. Pero en cambio, vemos a Moisés saliendo en defensa de su pueblo. Le recuerda a Dios la alianza que hizo con Abraham y que su descendencia sería tan numerosa como las estrellas. Eso no sería posible si todos fueran borrados de la faz de la tierra.
Algunos pueden mirar este pasaje y pensar que Moisés está convenciendo a Dios de no herir a su propio pueblo. ¿Dios cambia de opinión? Me gusta ver este versículo en un contexto diferente. Por supuesto, Dios sabe lo que va a hacer. El ser humano no cambia la perfecta voluntad de Dios. Lo que entiendo de este pasaje es que Dios le está enseñando a Moisés cuán importante es para ellos tener un abogado humano. Alguien que pueda comunicarse con Dios en su nombre.
Avance rápido hasta el tiempo de Cristo y esto es exactamente lo que recibimos. No sólo tenemos un defensor que lleva nuestras necesidades y deseos al Padre, con el Espíritu Santo, sino que este defensor es Dios mismo. No solo tenemos un profeta, tenemos EL profeta. Jesús no solo viene a hablar de nuestra salvación, ES nuestra salvación. Podemos tender a ver el Antiguo Testamento como un Dios diferente al Nuevo Testamento. Como si de repente viniera Jesús y convenciera a Dios a ser menos duro. Pero debemos darnos cuenta de que la Trinidad existe desde el principio. El Dios del Antiguo y del Nuevo Testamento es el mismo y Dios quiere que todos los hombres se salven.
Así que cuando leemos pasajes como nuestra Primera Lectura donde parece que Dios quiere acabar con todos, prefiero leerlo como si Dios enseñara la importancia de un salvador. Somos humanos caídos y no merecemos la salvación. Dios tiene todo el derecho de acabar con todos nosotros si quiere porque después de todo, él nos creó. Es como la vieja frase, "Te traje a este mundo y puedo sacarte". Pero en vez de aniquilarnos y empezar de nuevo, como hizo con el diluvio, escucha el grito del defensor. Oye el grito de Moisés. Oye el grito de Cristo colgado en la cruz. Podemos estar caídos, podemos ser débiles, incluso podemos pecar horriblemente en diferentes momentos, pero Dios nos ama tanto que no solo nos envió un profeta para hablarnos de Dios, se envió a sí mismo.
A medida que nos acercamos más y más a la semana santa, creo que es importante reflexionar sobre el amor del Padre (aunque podría acabar con nosotros en cualquier momento), el sacrificio de Cristo en la cruz por nuestros pecados y la protección que tenemos del Espíritu Santo que nos mantiene en el buen camino. Dios desea que todos nos salvemos. No prefiere la ira a la misericordia. Así que tomemos un tiempo para agradecer a Dios por no darse por vencido con nosotros, y por dar un paso más y convertirse en uno de nosotros para ser nuestro abogado y permitirnos un día compartir su gloria eterna.
De parte de todos nosotros aquí en Diocesan, ¡Dios los bendiga!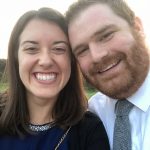 Tommy Shultz is a Business Development Representative for Diocesan. In this role he is committed to bringing the best software to dioceses and parishes while helping them evangelize on the digital continent. Tommy has worked in various diocese and parish roles since his graduation from Franciscan University with a Theology degree. He hopes to use his skills in evangelization, marketing, and communications, to serve the Church and bring the Good News to all. His favorite quote comes from St. John Paul II, who said, "A person is an entity of a sort to which the only proper and adequate way to relate is love."
Feature Image Credit: Fr. Barry Braum, unsplash.com/photos/ekowqf-lop8