This past spring our family was on vacation in Colorado. We had never been in a cave before with our kids and decided this would be a fun excursion during our stay. We went to Cave of the Winds near Colorado Springs. It was fascinating to hear the history of the cave and learn how people would have explored before modern excavation equipment and safety measures.
One of the highlights of any cave tour is the moment when the tour guide extinguishes the lights, thrusting you into what is called "cave darkness."
Cave darkness is a special kind of darkness. If every single light goes out, you cannot even see your own hand in front of your face. If you think you can, it's your brain trying to compensate for the utter lack of light. There is dark, then there is cave dark. "We are cut off from the guidance of the stars, from the sun and the moon. Even the horizon vanishes—if not for gravity, we'd scarcely know up from down. All of the subtle cues that might orient us on the surface—cloud formations, plant-growth patterns, animal tracks, wind direction—disappear. Underground, we lose even the guide of our own shadow" (Hunt, Will. "Getting Lost Makes the Brain Go Haywire.")
While I'm sure the tour guide's planned relighting of the candle would have been a dramatic moment, it was completely ruined by our 3-year old, Gabriel, since we didn't think twice about the light up shoes he was wearing. And so, even in that darkest dark, we had Gabriel's little green light up gym shoes to show us what was up and down.
Our other kids panicked in the dark. They stood still in the moment, but it was all they could talk about for days and days. I'm so thankful for Gabe's shoes. They gave us the opportunity to remind everyone, again and again, that Jesus is the light of the world, just like Gabe's shoes were a light in the darkness. Jesus was unexpected and what everyone was looking for, all at once.
Jesus tells us in today's Gospel that "There is nothing hidden that will not become visible,
and nothing secret that will not be known and come to light" (Luke 8:17). There is nowhere on earth His light fails to reach. The blackest soul, the darkest night, the deepest depth, the highest mountain peak. No one and nothing is hidden from His glorious light. How wonderfully comforting, that there is nothing that can separate us from the love of God, from the light of the Son. The next time you see a little kids' light up shoes, I hope it makes you remember that even the light from those little shoes can make all the difference in the world.
---
La primavera pasada nuestra familia estuvo de vacaciones en Colorado. Nunca habíamos estado en una cueva con nuestros hijos y decidimos que esta sería una excursión divertida. Fuimos a la Cueva de los Vientos cerca de Colorado Springs. Fue fascinante escuchar la historia de la cueva y aprender cómo la gente habría explorado antes de los equipos de excavación modernos y las medidas de seguridad. Uno de los aspectos más destacados de cualquier visita a una cueva es el momento en que el guía turístico apaga las luces y experimentas lo que se llama " la oscuridad de cueva".
La oscuridad de la cueva es un tipo especial de oscuridad. Si todas las luces se apagan, ni siquiera puedes ver tu propia mano frente a tu cara. Si crees que puedes, es tu cerebro tratando de compensar la falta total de luz. Hay oscuridad, luego hay oscuridad de cueva. "Estamos separados de la guía de las estrellas, del sol y de la luna. Incluso el horizonte se desvanece; si no fuera por la gravedad, apenas distinguiríamos arriba de abajo. Todas las señales sutiles que podrían orientarnos en la superficie (formaciones de nubes, patrones de crecimiento de plantas, huellas de animales, dirección del viento) desaparecen. Bajo tierra, perdemos incluso la guía de nuestra propia sombra" (Hunt, Will. "Getting Lost Makes the Brain Go Haywire").
Si bien estoy seguro de que el encendido de la vela planeado por el guía turístico habría sido un momento dramático, nuestro hijo de 3 años, lo arruinó por completo, ya que no pensamos cambiarle los zapatos iluminados que llevaba puestos. Y así, incluso en la oscuridad más oscura, teníamos las pequeñas zapatillas verdes iluminadas de nuestro hijo para mostrarnos lo que había arriba y abajo.
Nuestros otros niños entraron en pánico en la oscuridad. Se quedaron quietos en el momento, pero era todo de lo que podían hablar durante días y días. Estoy muy agradecida por los zapatos de mi hijo. Nos dieron la oportunidad de recordarles a todos, una y otra vez, que Jesús es la luz del mundo, al igual que los zapatos eran una luz en la oscuridad. Jesús fue inesperado y lo que todos buscaban al mismo tiempo.
Jesús nos dice en el Evangelio de hoy que "nada hay oculto que no llegue a descubrirse, nada secreto que no llegue a saberse o a hacerse público" (Lucas 8,17). No hay ningún lugar en la tierra que Su luz no alcance. El alma más negra, la noche más oscura, la profundidad más profunda, el pico más alto de la montaña. Nadie ni nada se esconde de Su luz gloriosa. Qué maravillosamente reconfortante, que no haya nada que nos pueda separar del amor de Dios, de la luz del Hijo. La próxima vez que veas zapatos con luces para niños pequeños, espero que te recuerde que incluso la luz de esos zapatos pequeños puede hacer toda la diferencia del mundo.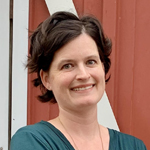 Kate Taliaferro is an Air Force wife and mother. She is blessed to be able to homeschool, bake bread and fold endless piles of laundry. When not planning a school day, writing a blog post or cooking pasta, Kate can be found curled up with a book or working with some kind of fiber craft. Kate blogs at DailyGraces.net.
Feature Image Credit: Jeremy Bishop,www.pexels.com/photo/person-standing-and-holding-lamp-inside-cave-2397414/