As I was preparing writing this, my sister left me inspiration in a voicemail. Her words were:
"Today in religion class, they told us to put down our phones and interact. The importance of interaction. And I have to admit, that's something you definitely taught me. When you're in situations, you won't hide by taking out your phone. If someone is there, you'll be polite, talk to them, and allow them to interact with you rather than shutting yourself off."
As my brother says, I was shooketh. First of all, can we talk about the fact that someone had to force these kids to socialize without a phone? I knew technology has taken over, but can you even imagine? That blew my mind. The second reason I'm surprised is that a recurring conversation that I have with my boyfriend embodies the complete opposite of what my sister said about me. He says that I am becoming the type of person who is always on their phone and needs to constantly be entertained. The worst part was that when he first brought it up, I couldn't even deny it.
Still, I know both my sister and my boyfriend are right. I AM the kind of person that loves to interact with people. I love the small talk, the heart-to-hearts, the "so what do you do for fun" conversations with strangers. Sadly, I am quickly becoming the kind of person that placates themselves with their cell phone to avoid looking or feeling awkward, and that makes me so disappointed in myself. And disappointment, as we all learned as children, feels a lot worse than anger.
With today's technological advancements, we are able to connect with more people than any past generation. Yet today's generation isn't doing too hot. Just checking social media (yes, from my phone) on World Mental Health Day was enough to make me realize how many of us feel alone, anxious, or depressed.
You see, when we are constantly on our phones, we close ourselves off to the world. Our phones, literally communication devices, cut off communication before it can even begin. Even when we put it in our pockets, we know we aren't giving others 100% of our attention because we are thinking about checking our phones.
So we have to ask ourselves: How can we feed the hungry or shelter the poor or clothe the naked or invite the stranger or look after the sick when we are too engrossed in our phones to even see them around us? How can we call ourselves a proper disciple of Christ if we cannot even give the people in our lives the love and attention that they need?
We can't.
So if you are reading this on your phone, finish this paragraph then put it down. Put it away. Yes, there will be a brief panic, but I encourage you to embrace it. Embrace the silence of your life. Embrace the stillness of your life. Just breathe. Give yourself 15-30 minutes without the worry of emails, of missed calls, and of texts. Give yourself freedom from the constant stress of missing out. Moreover, take this time to experience the world that God set in front of you. Talk to the people made in his image. If there's no one around, then talk to God. I'm sure he wouldn't mind.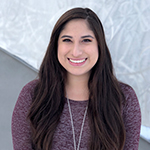 Veronica Alvarado is a born and raised Texan currently living in Michigan. Since graduating from Texas A&M University, Veronica has published various articles in the Catholic Diocese of Austin's official newspaper, the Catholic Spirit, and other local publications. She now works as the Content Specialist in Diocesan's Web Department.