In today's Gospel, the crowds ask John the Baptist, "What then should we do?" In reply, he said to them, "Whoever has two coats must share with anyone who has none; and whoever has food must do likewise" (Luke 3:10-11). John also tells the tax collectors to "Collect no more than the amount prescribed for you" (Luke 3: 13). Interesting to see this reading at the time of year when many people amass more than probably needed. However, it is also a time of donating our extra clothes and food, both to make room in preparation for incoming gifts and the spirit of giving.
Regular decluttering is an excellent habit of keeping our homes in order; I have learned it is simply impossible to organize clutter. The more belongings I try to contain or control, the greater chaos I seem to create. This phenomenon can be said of the state of my soul as well. During an Advent reflection, the young transitional deacon at my parish encouraged us to declutter our souls to make room for Jesus this Christmas. Finding time during Advent for a good Sacramental Confession among the card writing, decorating, present buying, and cookie-baking is a wonderful gift to give ourselves. For it is important to remember, we are body and soul, and we are baptized "with the Holy Spirit and fire" (Luke 3:16). The baptism we receive, instituted by Christ, involves the sanctifying grace of the Holy Spirit and the divine capacity to forgive sin (CCC 696).
Today, the Church celebrates the apparition of the Blessed Mother to Juan Diego with the feast of Our Lady of Guadalupe. Juan's faithfulness to the Catholic faith opened his heart to the miracle of the rose-covered tilma and the subsequent conversion of millions of people. Contemplate what God could do with our fidelity in living out the grace of our baptismal promises?
We are not making this journey of faith alone; Mary is our mother, guide, intercessor, and model of a life filled with grace. We too can take comfort in the words Mary spoke to Juan Diego, "Listen and understand well, my son, smallest of all, that you have no cause to be frightened and worried, let your heart be troubled no longer, have no fear of that sickness, nor of any other sickness or sorrow. Is this not your mother here next to you?"
Here on the Third Sunday of Advent, as St. Paul reminds us to have no anxiety in anything but pray about everything, and we will have reason to rejoice! Let us declutter our souls, unburden our hearts, draw near to God, who will draw all the nearer to us! To come to seek His mercy in the confessional, so to make room in our hearts for Him to come, not only on Christmas day but every day.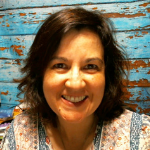 Allison Gingras works for WINE: Women In the New Evangelization as National WINE Steward of the Virtual Vineyard. She is a Social Media Consultant for the Diocese of Fall River and CatholicMom.com. She is a writer, speaker, and podcaster, who founded ReconciledToYou.com and developed the Stay Connected Journals for Catholic Women (OSV).
Feature Image Credit: Cathopic, https://www.cathopic.com/photo/5323-luz-iglesia
The views and opinions expressed in the Inspiration Daily blog are solely those of the original authors and contributors. These views and opinions do not necessarily represent those of Diocesan, the Diocesan staff, or other contributors to this blog.