In the First Reading, Daniel admits to his sins and those of Judah. Context aside, the dialogue sounds very much like a person participating in the sacrament of Reconciliation: it is a voluntary admission of guilt.
Let alone the mysterious outpouring of grace from confession, it is advantageous for a person to be capable of "accusing" him or herself of the wrong that they've done.
When we take responsibility for our sins, we approach the opportunity to overcome our sin. If it's true that we can choose sin, isn't it also true that we can choose the True, Good and Beautiful?
We can indeed. We see evidence of that in the lives of the Saints and Venerables.
We have radical, God-given freedom, which requires responsibility and self-awareness in order to be practiced well.
But the Gospel is not a "self-help" book; it is a "God-help-us-so-we-can-help-others-and-ourselves" book (among other things).
God helps us by "not deal[ing] with us according to our sins".
PS 103:10a, Responsorial Psalm
When we are self-aware and admit to our responsibility of sin in Reconciliation, the free gift of grace that is His mercy transforms us. If we return to Him and make a good confession, our hearts start to resemble the Sacred and Immaculate.
It is only after a sincere confession and gift of heavenly grace that we are able to withhold judgment and condemnation. Instead, we are able to forgive and give freely because that is how the Divine has responded to our apology… and for those who have yet to make an apology, He yearns most to share His mercy with them.
Grow in Divine Self-Awareness.
Harness responsibility.
And "Be merciful just as [our] heavenly Father is merciful"
-Luke 6:36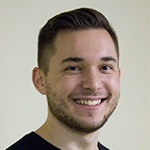 During the week, Matthew Juliano works as a Direct Support Professional with individuals who have intellectual and developmental disabilities. Visit his Patreon page to learn more about his job; there you can also find more reflections on life and faith. On weekends, he travels as the drummer for Full Armor Band to play retreats and conferences. Most importantly, Matthew is planning and preparing to wed his fiancé this July.