"The one who sent me, whom you do not know, is true. I know him, because I am from him, and he sent me."
Jesus is talking about the Father, and the Jews know this; they know that Jesus is clearly stating that he is the Son of God, the Son of the Father; he is telling them clearly that he knows God, and has been sent by God. "I am from him, and he sent me." There it is. No mincing words at this point in the mission, even if it will mean his death.
This is the very heart of Jesus being revealed to the world: the Father sent the Son, and the Son has accepted this mission in love – love for the Father, and love for us. Jesus' bread is to do the will of the Father; the Son can do nothing of his own accord, but only what he sees the Father doing; the Son is obedient, even unto death, death on a cross…
What about us? We are called to be transformed in Christ – not just follow all the rules or be nice and share, but to be transformed IN him, conformed TO him, become one WITH him so that we can bring HIM to others. And when we are transformed in him, our motivation and desires will be the same as his. When we are transformed in him, our hearts should be like his: oriented toward the Father, in love. When we are transformed in Christ, when our hearts are aligned with his and our eyes are on the will of the Father, we are at last empowered and freed to bring Christ to the world and the world to Christ. This is what the world is thirsting for. This is what Christ is thirsting for. When we deepen our intimacy with Christ, the reverberations of that intimacy can transform the world. The deeper the intimacy, the stronger and farther the ripples of that love travel.
This is part of what Jesus came to teach us. We are created to be arrows pointing to the Father with our lives, for God's glory, for our good, and the good of others.
We are each alive right here and now in a world that is in desperate need. It is in desperate need that we be who and what we are created to be: we are created and called to be leaven for a world enervated and deflated by sin and selfwardness, to be salt that enhances and preserves what would otherwise rot, to be light to every darkened place. We are anointed at Baptism to be God's priests and prophets and kings! We are sent on mission, and this culture has a huge need for us to embrace that mission. We are created to be holy, and this world has a deep need for our holiness.
In Christ, we must strive to do God's work God's way, God's will for God's glory!
---
"Pues bien, yo no vengo por mi cuenta, sino enviado por el que es veraz; y a él ustedes no lo conocen. Pero yo sí lo conozco, porque procedo de él y él me ha enviado".
Jesús está hablando del Padre, y los judíos lo saben; saben que Jesús está afirmando claramente que es el Hijo de Dios, el Hijo del Padre; les está diciendo claramente que conoce a Dios y que ha sido enviado por Dios. "Procedo de él y él me ha enviado". Ahí está. Sin medir las palabras en este punto de la misión, incluso si eso significaba su muerte.
Este es el corazón mismo de Jesús que se revela al mundo: el Padre envió al Hijo, y el Hijo ha aceptado esta misión en el amor: amor por el Padre y amor por nosotros. El pan de Jesús es hacer la voluntad del Padre; el Hijo nada puede hacer por sí mismo, sino sólo lo que ve hacer al Padre; el Hijo es obediente, hasta la muerte, muerte en la cruz.
¿Qué pasa con nosotros? Estamos llamados a ser transformados en Cristo, no solo a seguir todas las reglas o ser amables y compartir, sino a ser transformados EN él, conformados A él, y ser uno CON él para que podamos llevarlo a otros. Y cuando seamos transformados en él, nuestra motivación y nuestros deseos serán los mismos que los suyos. Cuando somos transformados en él, nuestro corazón debe ser como el suyo: orientado hacia el Padre, en el amor. Cuando somos transformados en Cristo, cuando nuestros corazones están alineados con el suyo y nuestros ojos están puestos en la voluntad del Padre, somos por fin empoderados y libres para llevar a Cristo al mundo y al mundo a Cristo. El mundo está sediento por esto y es por esto que Cristo tiene sed. Cuando profundizamos nuestra intimidad con Cristo, las reverberaciones de esa intimidad pueden transformar a mundo. Cuanto más profunda es la intimidad, más fuertes y más lejos se extiendan las ondas de ese amor.
Esto es parte de lo que Jesús vino a enseñarnos. Somos creados para ser flechas apuntando al Padre con nuestra vida, para la gloria de Dios, para nuestro bien y el de los demás.
Todos estamos vivos aquí y ahora en un mundo que tiene una necesidad desesperada. Es una necesidad desesperada que seamos quienes y para lo que fuimos creados: fuimos creados y llamados a ser levadura para un mundo enervado y desinflado por el pecado y el egoísmo, para ser sal que realza y preserva lo que de otro modo se pudriría, para ser luz a todo lugar oscuro. ¡Somos ungidos en el bautismo para ser sacerdotes, profetas y reyes de Dios! Somos enviados a una misión, y esta cultura tiene una gran necesidad de que adoptemos esa misión. Fuimos creados para ser santos, y este mundo tiene una profunda necesidad de nuestra santidad.
En Cristo, debemos esforzarnos por hacer la obra de Dios a la manera de Dios, ¡la voluntad de Dios para la gloria de Dios!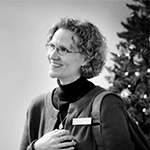 Kathryn Mulderink, MA, is married to Robert, Station Manager for Holy Family Radio. Together they have seven children (including Father Rob), and seven grandchildren. She is President of the local community of Secular Discalced Carmelites and has published five books and many articles. Over the last 30 years, she has worked as a teacher, headmistress, catechist, Pastoral Associate, and DRE, and as a writer and voice talent for Catholic Radio. Currently, she serves the Church by writing and speaking, and by collaborating with various parishes and to lead others to encounter Christ and engage their faith. Her website is www.KathrynTherese.com
Feature Image Credit: Wesley Tingey, https://unsplash.com/photos/y2-FG8oiSiQ