My mother is in the final stages of Alzheimer's. In the lovely summer weather this year, she and dad have spent a couple of hours every afternoon sitting outside in the lovely garden where she lives. Listening to the birds, watching the squirrels play, and enjoying the flowers and trees has always been a blessed way for mom to spend her leisure moments, particularly in these last fifteen years. I am so grateful to God that my parents have had this very special final year together.
Even as the whole family has found a new and blessed rhythm of being with mom and surrounding her with love and experiences of beauty that are familiar to her on this earth, we all know that this will probably be the last summer that we will have this gift.
I find my comfort in the Feast of Mary we celebrate today, Mary's Assumption into heaven. The Collect prayer for today's Mass lifts our minds and our hearts:
O God, who, looking on the lowliness of the Blessed Virgin Mary,
raised her to this grace,
that your Only Begotten Son was born of her according to the flesh
and that she was crowned this day with surpassing glory,
grant through her prayers,
that, saved by the mystery of your redemption,
we may merit to be exalted by you on high.
Heaven is the final goal.
Even as we enjoy with mom these precious moments in the beauty of nature, the glory of creation, I remember that heaven is the final goal. From the moment of his glorious rising from the dead, Jesus has been lifting up our hearts, lifting them up above this earth, above this place of exile, above this vale of tears. He rose from the dead. He ascended into heaven. The Spirit descended upon the apostles in the Cenacle. And today we celebrate the assumption of Mary into heaven.
On this day we celebrate the Immaculate Mother of God, the ever virgin Mary, who having completed the course of her earthly life, was assumed body and soul into heavenly glory (Pius XII, Munificentissimus Deus 44). Pius XII affirmed in this dogma of the Assumption of Mary, the elevation of Mary's body to heavenly glory. We celebrate today the moment at which Mary was "taken up body and soul into heavenly glory, when her earthly life was over, and exalted by the Lord as Queen over all things" (Lumen Gentium 59).
The Catechism of the Catholic Church tells us that "the Assumption of the Blessed Virgin is a singular participation in her Son's Resurrection and an anticipation of the resurrection of other Christians" (CCC 966).
And so we spend these days with Mom, these final months of life before Life with joy in our hearts, yes mingled with the sorrow of knowing she won't be with us, but with transparent and joyful gratitude. She has already received the Anointing of the Sick and the Apostolic Blessing at a point in which she seemed to be approaching the end. Now even as we cherish the beauties of creation on this earth, we know Mom is ready for eternity. Even as we enjoy those precious moments and share those selfies with her that we'll keep forever, we remember that this life is but a preparation for eternity. Mary who has gone before us, body and soul, reminds us of this particularly on the Feast of the Assumption. There in heaven, the Mother of Jesus and our mother enjoys forever the beatific vision that is our hope, the hope of all Christians. What Mary now enjoys in heaven is promised to each of us:
Christ has been raised from the dead, the first fruits of those who have fallen asleep. For since death came through man, the resurrection of the dead came also through man. For just as in Adam all die, so too in Christ shall all be brought to life, but each one in proper order: Christ the first fruits; then, at his coming, those who belong to Christ." (Colossians 15:20-23)
According to Pope Benedict XVI:
"By contemplating Mary in heavenly glory, we understand that the earth is not the definitive homeland for us either, and that if we live with our gaze fixed on eternal goods we will one day share in this same glory and the earth will become more beautiful.
"Consequently, we must not lose our serenity and peace even amid the thousands of daily difficulties. The luminous sign of Our Lady taken up into Heaven shines out even more brightly when sad shadows of suffering and violence seem to loom on the horizon.
"We may be sure of it: from on high, Mary follows our footsteps with gentle concern, dispels the gloom in moments of darkness and distress, reassures us with her motherly hand" (Benedict XVI, General Audience, August 16, 2006).
If you are accompanying a loved one or friend in the last months or years of their life, or if you yourself are soon to enter your eternal home, slip your hand into Mary's hand. Make beautiful memories during these days, cherish all the blessings you have on this earth, and also keep your mind and heart lifted high. Mary is your hope, the promise of a Life after this one, a Life that will never end, a Life of eternal joy. As you cherish the moments you have here, prepare for the eternal and unending forever that is our final destination, where Mary awaits to receive you, her child.
Mary our Hope, assumed into heaven, pray for us.
---
Mi madre está en las etapas finales de Alzheimers. En el hermoso clima de verano de este año, ella y mi papá han pasado un par de horas cada tarde sentados afuera en el hermoso jardín donde viven. Escuchar a los pájaros, ver jugar a las ardillas y disfrutar de las flores y los árboles siempre ha sido una forma bendecida para mamá de pasar sus momentos relejados, particularmente en estos últimos quince años. Estoy tan agradecida con Dios que mis padres hayan tenido juntos este último año tan especial.
Aunque toda la familia ha encontrado un ritmo nuevo y bendecido de estar con mi mamá y rodearla de amor y experiencias de belleza que le son familiares en esta tierra, todos sabemos que lo más probable es que este será el último verano que tendremos este regalo.
Encuentro mi consuelo en la Fiesta de María que celebramos hoy, la Asunción de María al cielo. La oración colecta para la Misa de hoy eleva nuestras mentes y nuestros corazones:
Oh Dios, que, mirando la humildad de la Santísima Virgen María,
la elevó a esta gracia,
que tu Hijo Unigénito nació de ella según la carne
y que ella fue coronada hoy con gloria incomparable,
conceda a través de sus oraciones,
que, salvados por el misterio de tu redención,
merezcamos ser exaltados por ti en lo alto.
El cielo es el objetivo final.
Incluso mientras disfrutamos con mi mamá estos preciosos momentos en la belleza de la naturaleza, la gloria de la creación, recuerdo que el cielo es la meta final. Desde el momento de su gloriosa resurrección de entre los muertos, Jesús ha estado elevando nuestros corazones, elevándolos por encima de esta tierra, por encima de este lugar de exilio, por encima de este valle de lágrimas. Se levantó de entre los muertos y ascendió al cielo. El Espíritu descendió sobre los apóstoles en el Cenáculo. Y hoy celebramos la asunción de María al cielo.
En este día celebramos a la Inmaculada Madre de Dios, la siempre Virgen María, que después de cumplir el curso de su vida terrena, fue asunta en cuerpo y alma a la gloria celestial (Pío XII, Munificentissimus Deus 44). Pío XII afirmó en este dogma de la Asunción de María, la elevación del cuerpo de María a la gloria celestial. Celebramos hoy el momento en que María fue "elevada en cuerpo y alma a la gloria celestial, acabada su vida terrena, y exaltada por el Señor como Reina sobre todas las cosas" (Lumen Gentium 59).
El Catecismo de la Iglesia Católica nos dice que "la Asunción de la Santísima Virgen es una participación singular en la Resurrección de su Hijo y una anticipación de la resurrección de los demás cristianos" (CCC 966).
Y así pasamos estos días con Mamá, estos últimos meses de vida, antes de la vida eterna, sí mezclada con la tristeza de saber que no estará con nosotros, pero con transparente y gozosa gratitud. Ya ha recibido la Unción de los Enfermos y la Bendición Apostólica en un punto en el que parecía estar llegando al final. Ahora, aunque apreciamos las bellezas de la creación en esta tierra, sabemos que mamá está lista para la eternidad. Incluso mientras disfrutamos de esos preciosos momentos y compartimos esas selfies con ella que guardaremos para siempre, recordamos que esta vida no es más que una preparación para la eternidad. María, que nos ha precedido en cuerpo y alma, nos lo recuerda especialmente en la fiesta de la Asunción. Allí en el cielo, la Madre de Jesús y la madre nuestra, goza para siempre de la visión beatífica que es nuestra esperanza, la esperanza de todos los cristianos. Lo que María disfruta ahora en el cielo se nos promete a cada uno de nosotros:
"Cristo ha resucitado de entre los muertos, las primicias de los que durmieron. Porque por cuanto la muerte entró por el hombre, también por el hombre vino la resurrección de los muertos. Porque así como en Adán todos mueren, así también en Cristo todos serán vivificados, pero cada uno en su debido orden: Cristo, las primicias; luego, en su venida, los que son de Cristo." (Colosenses 15:20-23)
Según el Papa Benedicto XVI:
"Al contemplar a María en la gloria celestial, comprendemos que la tierra tampoco es la patria definitiva para nosotros, y que si vivimos con la mirada puesta en los bienes eternos, un día compartiremos esta misma gloria y la tierra se hará más hermosa.
"En consecuencia, no debemos perder la serenidad y la paz, incluso en medio de las miles de dificultades diarias. El signo luminoso de Nuestra Señora llevada al Cielo resplandece aún más cuando las tristes sombras del sufrimiento y de la violencia parecen asomar en el horizonte.
"Podemos estar seguros: desde lo alto, María sigue nuestros pasos con dulce solicitud, disipa las tinieblas en los momentos de oscuridad y angustia, nos tranquiliza con su mano materna" (Benedicto XVI, Audiencia general, 16 de agosto de 2006).
Si estás acompañando a un ser querido o amigo en los últimos meses o años de su vida, o si tú mismo vas a entrar pronto al hogar eterno, desliza tu mano en la mano de María. Crea hermosos recuerdos durante estos días, valora todas las bendiciones que tienes en esta tierra y también mantén tu mente y tu corazón elevados. María es vuestra esperanza, la promesa de una Vida después de ésta, una Vida que nunca tendrá fin, una Vida de eterna alegría. Mientras valoras los momentos que tienes aquí, prepárate para el eterno e interminable para siempre que es nuestro destino final, donde María te espera para recibirte, su hijo.
María, Esperanza nuestra, asunta al cielo, ruega por nosotros.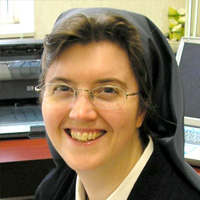 Kathryn James Hermes, FSP, is the author of the newly released title: Reclaim Regret: How God Heals Life's Disappointments, by Pauline Books and Media. An author and spiritual mentor, she offers spiritual accompaniment for the contemporary Christian's journey towards spiritual growth and inner healing. She is the director of My Sisters, where people can find spiritual accompaniment from the Daughters of St. Paul on their journey. Website: www.touchingthesunrise.com Public Facebook Group: https://www.facebook.com/groups/srkathrynhermes/ For monthly spiritual journaling guides, weekly podcasts and over 50 conferences and retreat programs join my Patreon community: https://www.patreon.com/srkathryn.
Feature Image Credit: Charles Le Brun, Public domain, commons.wikimedia.org/wiki/File:L%27Assomption_de_la_Vierge,_Le_Brun.jpg