"And in his name the Gentiles will hope." – Matthew 12:21
"I plead with you! Never, ever give up on hope, never doubt, never tire, and never become discouraged. Be not afraid." – St. John Paul II
Hope is defined in the Oxford Dictionary as "a feeling of expectation and desire for a certain thing to happen", "a person or thing that may help save someone", and "grounds for believing that something good may happen". Within these definitions we can see the Creator in each and every one of them. Christ's resurrection gives us a desire for His return and our full union with the Lord in the Kingdom. Christ was sent by the Father to save us through His love and the gift of the Holy Spirit. God's promises provide us with the grounds for trusting that He will come for us and that we are called to eternity with Him. Even amidst the gift of Christ's sacrifice, all of these witnesses of God's love through the Trinity, and the promises that God keeps and will continue to keep it can be difficult to keep hope in sight.
The past few years have been a crazy ride. My life has drastically changed for the better, and has been full of great excitement. Although God has done and continues to provide such great blessings in my life (and the lives of those around me) I can feel a loss of hope in the small daily moments due to life's struggles. It can be difficult for me to keep in mind all of the blessings when something tough in life comes my way, in which I feel as though I am being robbed of hope and joy.
I have such a gift in the fact that God brought me home to the Catholic Church over three years ago, as I now know I can continue to call upon the name of Jesus to maintain my hope and joy in this life. While the Lord has brought many great gifts into my life, I often feel hopeless in that I am unsure if I can handle it all. Marriage in October to my best friend is one of the joys that God has called me to as I live out my vocation to love. Teaching special education is an additional way He calls me to love His children. For the next two years I will be enrolled in graduate school to further my teaching skills to better support my kiddos in the classroom, hoping to foster independence for each of them by God pouring love upon them through me.
While at times I may feel overwhelmed by my desire to grow in love for all of the people in my life, at times feeling as though I am not equipped to handle it all, calling upon the name of Jesus brings hope in many ways: the unconditional love and friendship of my fiancé, the positive relationships built with my students, and the support of many loved ones. Ultimately the name of Jesus whispers hope to my soul. Amidst the craziness of life, including the joys and the sorrows, I am reminded of God's continual presence in my life when His name crosses my heart throughout the little moments of each day.
I encourage you to call upon the name of Jesus. When you feel a need to pray, but don't have the words, say His name and trust in the hope that He promises with His peace and love. Be encouraged that He has you right where you should be, that His plans for your life are perfect, and that these times are helping you to grow in trust of His love and in hope of His promises.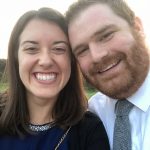 Nathalie Hanson is a special education teacher and a joyful convert to the Catholic faith with obsessive compulsive disorder (OCD). She loves to share her passion for Catholicism with others, including her conversion story and how God continues to work miracles in her life through her OCD. Nathalie is engaged to her best friend, Diocesan's Tommy Shultz, and she is beyond excited to become Mrs. Shultz this October. Her favorite saints include St. Peter the Apostle, St. Teresa of Calcutta, and St. John Paul II. If you have any questions for Nathalie, or just want her to pray for you, you can email her at rodzinkaministry@gmail.com.