The First Reading has one of my favorite passages, seen time and time again throughout the Bible: "My love shall never leave you nor my covenant of peace be shaken, says the LORD, who has mercy on you." Isaiah 54:10
Other similar passages are:
Hebrews 13:5 – Let your life be free from love of money but be content with what you have, for he has said, "I will never forsake you or abandon you."
Deuteronomy 31:6 – Be strong and courageous. Do not be afraid or terrified because of them, for the Lord your God goes with you; he will never leave you nor forsake you.
Joshua 1:5 – No one can withstand you as long as you live. As I was with Moses, I will be with you: I will not leave you nor forsake you.
Matthew 28:20 – And behold, I am with you always, until the end of the age.
Today, we read this passage in the Advent season, as we are waiting. In such a time of waiting, it is easy to get lost. For example, while on hold with the insurance company, I started scrolling through social media on my phone, put away some laundry, and then started looking up other insurance companies. I also began to get discouraged, for I've been on hold before only to be hung up on and forced to start the process all over again.
Similarly, while we wait for Jesus, or even just wait for God to reveal His plan for us, to us, we can get discouraged. We get lost and begin to do other things and seek other earthly comforts.
So there I was, still on hold, when the lady came back on the line and let me know that they were still working on it and would have to put me back on hold again but ARE still working on it. Instantly, I was reassured and more hopeful. It was 10 seconds of encouragement, but it made me close the tabs for other insurance companies!
I see those passages from Isaiah, Hebrews, and Deuteronomy as similar encouragement, especially since they are all used in different scenarios across the Bible, yet the message remains the same: God will never leave you.
So today, as you are waiting for the birth of Jesus and especially as you wait for God to reveal more to you, do not be discouraged! Instead, remind yourself of all these times, throughout thousands of years, how people have had their hope restored by knowing that God would never leave them. In the same way, God will never abandon you, nor forsaken you, nor His covenant of peace be shaken. "I am with you always, until the end of the age" (Matthew 28:20).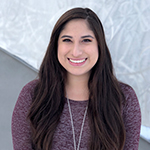 Veronica Alvarado is a born and raised Texan currently living in Pennsylvania. Since graduating from Texas A&M University, Veronica has published various Catholic articles in bulletins, newspapers, e-newsletters, and blogs. She continued sharing her faith after graduation as a web content strategist and digital project manager. Today, she continues this mission in her current role as communications director and project manager for Pentecost Today USA, a Catholic Charismatic Renewal organization in Pittsburgh.
Feature Image Credit: Siavash Ghanbari, https://unsplash.com/photos/A8UfuZ9hr1Q