"Command that these two sons of mine sit, one at your right and the other at your left, in your kingdom."
The mother of the sons of Zebedee had figured out, perhaps, that there was a kingdom involved in being a disciple of this itinerant preacher Jesus. For though Jesus with his call to poverty of spirit, meekness and humility certainly didn't act like the kings she knew, he nevertheless spoke often of the kingdom of God.
Possibilities, prestige, power…. As any good mother looking out for the interests of her children, she took the opportunity in today's Gospel reading to ask for places of honor for her two sons.
The other request for a place in the kingdom of Jesus that comes to mind is the request made by the repentant thief recorded in the Gospel of Luke (23:42-43).
Then he said, "Jesus, remember me when you come into your kingdom." He replied to him, "Amen, I say to you, today you will be with me in Paradise."
What is the difference between these two requests for a place in the kingdom? They clearly received two very different responses from Jesus.
The repentant thief speaks from a place of surrender, of petition, of awareness of his sin and his need. He turns to Jesus with the trust that is available to him at that most desperate moment of his life. He responds to the action of the Holy Spirit in the measure to which he is capable in this first encounter with his Savior. In a sense, we can say that he is more completely in the form of holiness which is Jesus himself, the form of obedient humble surrender:
Mary, the mother who stood beneath her Son as he died on the cross, no doubt heard this plea that broke from the heart of the repentant thief, and in her heart echoed her own words of obedient surrender uttered years earlier at the Annunciation, "Behold, I am the handmaid of the Lord. May it be done to me according to your word" (Luke 1:38), and at the wedding feast of Cana: "They have no wine," "Do whatever he tells you" (John 2:4-5).
The Kingdom of God is received, it is surrendered to, it is entered into by one's complete alignment with God's will for oneself. We can prepare ourselves, but we do this only by fertilizing the soil of our hearts through the living of the Beatitudes.
This is why it makes sense that Jesus asks the sons of Zebedee if they are ready to drink the chalice he was to drink. It was a matter, he was saying, of moving downward and pouring out one's life for others. Then Jesus stated that he himself didn't have that power to give away these seats in the Kingdom. This was a decision that was the prerogative of the Father. Jesus himself in his very identity as Son deferred in all things, in all ways, to his Father in complete and obedient surrender.
The request of the mother of the sons of Zebedee, and the desire of the two apostles themselves, did not correspond to the very being of Jesus as Son and so was impossible to grant.
We are called to serve, to be last, to give our lives for others, to trust that the One who holds in his hands our very lives and defines our destiny is faithful and can be trusted.
What places of honor might you be seeking? They may be as world-oriented as the request of the mother of the sons of Zebedee or they might be as spiritual as great holiness or a ministry that stands out and stands above the mundane work of others. In any case, the trap is often very subtle. This Lent come to your Savior with your need and your poverty and see where he himself wishes to lead you.
"But my trust is in you, O LORD; I say, 'You are my God.' In your hands is my destiny" (from today's Psalm).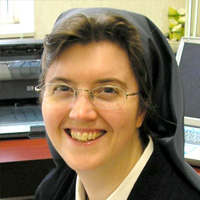 Kathryn James Hermes, FSP, is the author of the newly released title: Reclaim Regret: How God Heals Life's Disappointments, by Pauline Books and Media. An author and spiritual mentor, she offers spiritual accompaniment for the contemporary Christian's journey towards spiritual growth and inner healing. She is the director of My Sisters, where people can find spiritual accompaniment from the Daughters of St. Paul on their journey. Website: www.touchingthesunrise.com Public Facebook Group: https://www.facebook.com/groups/srkathrynhermes/ For monthly spiritual journaling guides, weekly podcasts and over 50 conferences and retreat programs join my Patreon community: https://www.patreon.com/srkathryn.
Feature Image Credit: Titian, Public domain, via Wikimedia Commons, https://commons.wikimedia.org/wiki/File:Titian_-_Christ_and_the_Good_Thief_-_WGA22832.jpg