How do you pray? How do you talk to Jesus?
I have always found it so hard. In this world and age, we are so distracted by the activity around us, it is hard to focus on finding inner peace and conversing with Christ.
Too many times instead we rely on the resources and comforts of our Earthly life: money, security, worldly pleasures.
But in contrast, today's First Reading states "Cursed is the man who trusts in human beings, who seeks his strength in flesh." And what follows is, "Blessed is the man who trusts in the LORD, whose hope is the LORD. He is like a tree planted beside the waters that stretches out its roots to the stream".
Psalm 1 paints a beautiful image of a source of life, water hydrating and nourishing our soul. The Psalms are actually one of my favorite sections of the entire Bible, as they always seem to so eloquently capture the true emotions of a relationship with God, both the ugly and the beautiful, through nourishing and vivid visuals. In the simplest of terms, they provide an easy foundation to teach us how to pray.
Inspired by today's readings, I invite you to reflect on how you sustain everlasting life through prayer and conversation with God. With prayer comes inner peace and calmness similar to that of a river stream flowing tranquilly or the air we breathe or the sunlight we feel.
Please pray for the suffering, the lonely, the scared, and the rejected, so that they can know the peace and joy that is Jesus Christ who will be present through all our trials to hold and embrace us. Pray for all the souls in Purgatory, especially those who have no one to pray for them. Please pray for all souls, living and deceased, that we may find the love of Christ as the foremost meaning to life, and that we can accept His love in all we do today and always.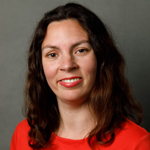 Dr. Alexis Dallara-Marsh is a board-certified neurologist who practices in Bergen County, NJ. She is a wife to her best friend, Akeem, and a mother of two little ones on Earth and two others in heaven above.
Feature Image Credit: Zach Reiner, https://unsplash.com/photos/hW11fwjzVfA