I have always found it challenging to "stay positive" while simultaneously acknowledging the harsh realities of life. I want to be a person of hope and joy, but I also realize that I can't help make the world a better place unless I open my eyes to its troubles. Today's First Reading provides a beautiful meditation, not only about the hope we have for the future, but about God's awareness of our plight here and now.
I remember one circumstance in particular in which I was overwhelmed by the potential for evil in this world and was tempted to despair. My husband and I were traveling across the country with our five children, all under the age of 10. It was late at night, and we stopped in a rest area that looked dark and dangerous. My husband took the four oldest into the restroom, and I climbed into the debris-strewn back seat with the baby. Tired and vulnerable, and possessing an overactive imagination, I started worrying about the safety of my children and the horrible things that can happen to children. I succumbed quickly to these dark thoughts and found myself crying in frustration and anger. Though I have had a close, trusting relationship with the Lord since I was a child, I have often struggled to accept the suffering of the innocent. Why Lord? Don't you care? Why must these evils go on and on?
As I continued to cry out to God in my heart, I shifted my feet which were resting awkwardly on a number of children's toys and blankets on the floor of the car. My movements triggered something, and a muffled tinkling tune penetrated the dark silence, "Jesus loves the little children…all the children of the world…"
I paused and let that reality sink into my consciousness. My prayers reached the only conclusion that brings any peace…Jesus, I trust in you!
Today's First Reading reminds us that God knows what we are suffering. He knows that things are far from perfect. By taking on a human form, Jesus Christ entered into the mess with us in order to experience, confront, and redeem the mess. Furthermore, this is not the end. This is not "all there is." In a little while, He will make things right and all that we yearn for and hope for will come to pass in the new heavens and the new earth. In the meantime, we live on in Christ, who forewarned us that we would have many trials in this world, but to be courageous, because he has overcome the world. (See Jn 16:33)
Our deepest instincts tell us there is an Author of life and He is all-loving, all-knowing, and all-powerful. But we do not have the mind of God and we cannot fully understand His ways. The more we unite ourselves to Him, the more we will trust in His ability to bring good out of evil. We will also find abiding joy, knowing that it won't be long before the One who sits on the throne will makes all things new. (See Rev 21:5)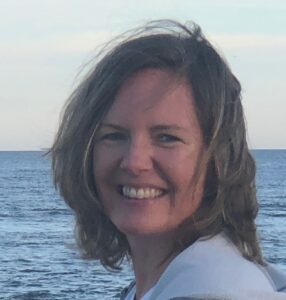 Christine Hanus is a thwarted idealist who, nevertheless, lives quite happily in Upstate NY. She is a wife and mother of five grown children.
Feature Image Credit: geralt, https://pixabay.com/illustrations/hand-keep-hover-light-shining-4448893/