Today's Gospel is one that we have heard often. I would dare say that many of us look at this in many different ways. Some believe that this whole story was a setup to put Jesus in a very uncomfortable position. The Mosaic law stated that a woman caught in adultery would be stoned to death, a very serious charge. According to that law the person being charged would have to have been actually caught in the physical act of adultery. That would have been very difficult to do. That is why some commentators believe it was all a set up. In the Mosaic law there had to be two witnesses. Hmmm. Were there actually spies set in place so as to catch this woman in the act? We will never really know for sure.
Let's take a look at how Jesus handles the situation. Most of us have seen pictures of the men encircling Jesus with rocks raised above their heads ready to do her in. We see the woman lying in the dirt waiting for her punishment. Then, to our surprise, Jesus bends down to her level and begins writing in the sand. We don't really know what he was writing, but what we do know is that it was not anything condemning her. Instead of standing over her and shaking his finger at her he got down in the dirt. The men surrounding him continued to harass her. He then dropped this forever-remembered statement, "Let the one among you who is without sin be the first to throw a stone at her". One by one they dropped their stones and walked away. Again, Jesus knelt by her and continued to draw in the dirt. Now, only he and the woman were left. Again, he stands up and says to her, "Woman where are they? Has no one condemned you"? "No one Sir". Then Jesus said, "Neither do I condemn you. Go and from now on do not sin anymore".
Was that sweet or what? Imagine the disappointment of the Pharisees. Too bad! To me this story and the one of the woman at the well show us the incredible love he has for his people. Perhaps way beyond our understanding but, being grateful for his incredible forgiveness.
Many years ago we had a family situation that I needed some guidance on. I went to our then pastor and sought his help. He asked me some questions and I answered them. And then he said this, "Charity (love) trumps everything"! What a profound answer to a very complex problem! I got out of the "dirt" and did what I needed to do! Let us continue to wallow in God's infinite Divine Mercy!
Serving with Joy!
---
El Evangelio de hoy es uno que hemos escuchado con frecuencia. Me atrevería a decir que muchos de nosotros vemos esto de muchas maneras diferentes. Algunos creen que toda esta historia fue un montaje para poner a Jesús en una posición muy incómoda. La ley mosaica establecía que una mujer sorprendida en adulterio sería lapidada hasta la muerte, un cargo muy grave. De acuerdo con esa ley, la persona acusada tendría que haber sido sorprendida en el acto físico de adulterio. Eso hubiera sido muy difícil de hacer. Es por eso que algunos comentaristas creen que todo fue un montaje. En la ley mosaica tenía que haber dos testigos. Interesante… ¿Hubo realmente espías establecidos para atrapar a esta mujer en el acto? Nunca lo sabremos con certeza.
Echemos un vistazo a cómo Jesús maneja la situación. La mayoría de nosotros hemos visto imágenes de los hombres rodeando a Jesús con rocas levantadas sobre sus cabezas listas para acabar con ella. Vemos a la mujer tendida en el suelo esperando su castigo. Luego, para nuestra sorpresa, Jesús se inclina hasta su nivel y comienza a escribir en la arena. Realmente no sabemos qué estaba escribiendo, pero lo que sí sabemos es que no era nada que la condenara. En lugar de pararse sobre ella y agitar su dedo hacia ella, se tumbó en la tierra. Los hombres que lo rodeaban continuaron acosándola. Luego dejó caer esta declaración siempre recordada: "Aquel de ustedes que no tenga pecado, que le tire la primera piedra". Uno por uno dejaron caer sus piedras y se alejaron. Nuevamente, Jesús se arrodilló junto a ella y continuó dibujando en la tierra. Ahora, solo quedaban él y la mujer. De nuevo se pone de pie y le dice: "'Mujer, ¿dónde están los que te acusaban? ¿Nadie te ha condenado?' Ella le contestó: 'Nadie, Señor'. Y Jesús le dijo: 'Tampoco yo te condeno. Vete y ya no vuelvas a pecar'."
¡Que increíble! Imagina la gran desilusión de los fariseos. Para mí esta historia y la de la mujer en el pozo nos demuestran el increíble amor que Jesús tiene por su pueblo. Quizás mucho más allá de nuestro entendimiento, pero estando agradecidos por su increíble perdón.
Hace muchos años tuvimos una situación familiar sobre la que necesitaba orientación. Fui a nuestro pastor y busqué su ayuda. Me hizo algunas preguntas y yo las respondí. Y luego dijo esto: "¡La caridad (el amor) triunfa sobre todo"! ¡Qué respuesta tan profunda a un problema tan complejo! Salí de la "suciedad" e hice lo que tenía que hacer. Sigamos gozando de la infinita Misericordia Divina de Dios.
¡Servir con Alegría!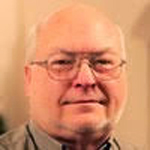 Deacon Dan Schneider is a retired general manager of industrial distributors. He and his wife Vicki have been married for over 50 years. They are the parents of eight children and thirty grandchildren. He has a degree in Family Life Education from Spring Arbor University. He was ordained a Permanent Deacon in 2002. He has a passion for working with engaged and married couples and his main ministry has been preparing couples for marriage.
Featured Image Credit: Tsunami Green, https://unsplash.com/photos/mEr9KXjOSKs