Jesus fasted in the desert for 40 days. The Israelites wandered in the desert for 40 years. Lent is 40 days long, and that's no accident.
Today, deep in the desert of Lent 2023, we are faced with some challenging readings. The Old Testament selection and the Gospel especially bring home to us that desert feeling, the longing for relief. At this point in Lent surely we can relate to the Israelites, "with their patience worn out by the journey."
Feel their despair, lost in the blazing desert, "disgusted with . . . wretched food," and sick from thirst. That they sometimes remember slavery in Egypt fondly says a lot about what their trek through the desert must have felt like! And when they complain (and who wouldn't, really?) God adds insult to injury by throwing venomous snakes into the mix!
Often we look to the Gospel for reassurance after a reading like this one. But while Jesus does not sic snakes on his followers, on the surface his words are confusing and not very comforting. He tells them he will be leaving, and he says no one can follow him. To those who had left everything to follow him already, and who loved him, those statements would surely have occasioned great distress. Then he adds that not only can they not follow, but rather they are going to die in their sin! Where is the hope?
Thankfully, we find some consolation in the Psalm, which illuminates the difference between complaining and praying: "O Lord, hear my prayer, and let my cry come to you." While praying indicates faith, complaining demonstrates a lack of faith.
God commanded his people to look at the serpent to remind them not just of their sin but of God's power: someone who can send down serpents at will is also someone who is all-powerful, someone we can trust. The message is that we should have faith in God's plan rather than complaining against it. That does not mean that we cannot ask for help, for God has "regarded the prayer of the destitute, and not despised their prayer."
In sending his Son to live and die among the people, "[t]he LORD looked down from his holy height, from heaven he beheld the earth, To hear the groaning of the prisoners, to release those doomed to die."
Almost everything Jesus says in this Gospel sounds negative, but there is a promise buried in his words: "If you do not believe that I AM, you will die in your sins." Therefore, if we DO believe that Jesus was sent by the Father and points the way to the Father, we will receive the release from death that we seek. Rather than raising our eyes to a serpent on a pole, we raise them to a Savior on a Cross.
---
Jesús ayunó en el desierto durante 40 días. Los israelitas vagaron por el desierto durante 40 años. La Cuaresma dura 40 días, y eso no es casualidad.
Hoy, en lo profundo del desierto de la Cuaresma de 2023, nos enfrentamos a algunas lecturas desafiantes. La selección del Antiguo Testamento y el Evangelio especialmente nos traen a la mente ese sentimiento de desierto, el anhelo de alivio. En este punto de la Cuaresma seguramente podemos relacionarnos con los israelitas, "pero por el camino, el pueblo se impacientó".
Podemos sentir su desesperación, perdidos en el desierto abrasador, "hastiados de esta miserable comida", y enfermos de sed. ¡El hecho de que a veces recuerden con cariño la esclavitud en Egipto dice mucho sobre cómo debe haber sido su viaje por el desierto! Y cuando se quejan (¿y quién no lo haría, en realidad?) ¡Dios agrega insulto a la herida al mandarles serpientes venenosas!
A menudo buscamos consuelo en el Evangelio después de una lectura como esta. Pero aunque Jesús no lanza serpientes a sus seguidores, en la superficie sus palabras son confusas y no muy reconfortantes. Les dice que se irá, y que nadie podrá seguirlo. A los que ya lo habían dejado todo por seguirlo, y que lo amaban, esas declaraciones seguramente les habrían causado gran angustia. Luego agrega que no solo no pueden seguir, ¡sino que van a morir en su pecado! ¿Dónde está la esperanza?
Afortunadamente, encontramos algo de consuelo en el Salmo, "Señor, escucha mi plegaria." Mientras quejarse demuestra falta de fe, orar indica fe.
Dios ordenó a su pueblo que mirara a la serpiente para recordarles no solo su pecado sino también el poder de Dios: alguien que puede hacer descender serpientes es también alguien que es todopoderoso, alguien en quien podemos confiar. El mensaje es que debemos tener fe en el plan de Dios en lugar de quejarnos de él. Eso no significa que no podamos pedir ayuda, porque Dios ha "cuando oiga el clamor del oprimido y no se muestre a sus plegarias sordo".
Al enviar a su Hijo a vivir y morir entre el pueblo, "el Señor, desde su altura santa, ha mirado a la tierra desde el cielo, para oír los gemidos del cautivo y librar de la muerte al prisionero."
Casi todo lo que Jesús dice en este Evangelio suena negativo, pero hay una promesa enterrada en sus palabras: "si no creen que Yo Soy, morirán en sus pecados". Por lo tanto, si SÍ creemos que Jesús fue enviado por el Padre y señala el camino al Padre, recibiremos la liberación de la muerte que buscamos. En lugar de levantar nuestros ojos a una serpiente en un asta, los levantamos a un Salvador en una cruz.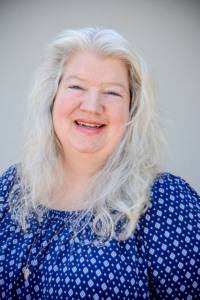 Leslie Sholly is a Catholic, Southern wife and mother of five, living in her hometown, Knoxville, Tennessee. She graduated from Georgetown University with an English major and Theology minor. She blogs at Life in Every Limb, where for 11 years she has covered all kinds of topics, more recently focusing on the intersection of faith, politics, and social justice.
Feature Image Credit: kalhh, https://pixabay.com/illustrations/cross-desert-sun-faith-sand-1719364/