In the First Reading from Acts Jesus tells Paul not to be afraid to speak and that Jesus is with him. Jesus promises us more in the verses from John's Gospel. Our grief and mourning will be turned to joy; that Jesus will return; that the Father will give us what we ask.
We do not know the day or the hour when Jesus will return. Our faith is based on the hope of his return and our joining him in heaven. Does this mean we wait without joy and must live with unanswered prayers? Not at all. Our joy comes when we trust in God's will for us and lean on him to show us the way, as Paul does in Acts.
Our joy, to be steadfast, must be rooted in Christ. St. Ignatius of Loyola reminds us that we need to detach from the things which keep us from God. Fr. Dolindo Ruotolo, in his beautiful Surrender Novena, encourages us to surrender our worries, our worldly concerns, and our struggles to Jesus.
When we reach the point where we no longer question Jesus about anything, when we have detached and surrendered, we will have true joy. I pray often for the grace to detach and surrender. Those two words offer us both comfort and consternation. It is in the giving up of ourselves that has us pause, asking "what if" over and over. We know that greater things await when we surrender, but in our humanity we are afraid. Paul is an imposing example of a man who changed his life for Christ. He approached living for him in a radical and total commitment of detachment and surrender. And then he found joy!
Whatever you are being asked to detach and surrender today, pray for the grace to do as well as Paul did so that you find the joy that comes from loving Christ fully.
---
En la Primera Lectura de Hechos, Jesús le dice a Pablo que no tenga miedo de hablar y que Jesús está con él. Jesús nos promete más en los versículos del Evangelio de Juan. Nuestro dolor y luto se convertirán en alegría; que Jesús volverá; que el Padre nos dará lo que le pidamos.
No sabemos el día ni la hora en que Jesús volverá. Nuestra fe se basa en la esperanza de su regreso y nuestra unión con él en el cielo. ¿Esto significa que esperamos sin alegría y debemos vivir con oraciones sin respuesta? Para nada. Nuestro gozo viene cuando confiamos en la voluntad de Dios para nosotros y nos apoyamos en él para que nos muestre el camino, como lo hace Pablo en los Hechos.
Nuestro gozo, para ser firme, debe estar arraigado en Cristo. San Ignacio de Loyola nos recuerda que debemos desapegarnos de las cosas que nos alejan de Dios. Padre Dolindo Ruotolo, en su hermosa Novena de Entrega, nos anima a entregar nuestras preocupaciones, problemas mundanos y nuestras batallas a Jesús.
Cuando lleguemos al punto en que ya no interroguemos a Jesús sobre nada, cuando nos hayamos desprendido y entregado, tendremos verdadera alegría. Rezo a menudo por la gracia de separarme y entregarme. Esas dos palabras nos ofrecen tanto consuelo como consternación. Es en el abandono de nosotros mismos que nos hace hacer una pausa, preguntando "qué pasaría si" una y otra vez. Sabemos que nos esperan cosas mayores cuando nos rendimos, pero en nuestra humanidad tenemos miedo. Pablo es un ejemplo imponente de un hombre que cambió su vida por Cristo. Se acercó a vivir para él en un compromiso radical y total de desprendimiento y entrega. ¡Y luego encontró la alegría!
Independientemente de lo que se te pida que despegues y entregues hoy, ora por la gracia de hacerlo tan bien como lo hizo Pablo para que encuentres el gozo que proviene de amar a Cristo plenamente.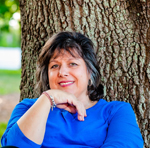 Deanna G. Bartalini, M.Ed.; M.P.A., is a certified spiritual director, writer, speaker and content creator. The LiveNotLukewarm.com online community is a place to inform, engage and inspire your Catholic faith. Her weekly Not Lukewarm Podcast gives you tips and tools to live out your faith in your daily life.
Feature Image Credit: Mohamed Nohassi, unsplash.com/photos/odxB5oIG_iA