May is filled with an abundance of celebrations: Baptisms, First Eucharist, graduations, retirements, weddings, anniversaries and funerals. Each milestone has its own unique character, anticipation, excitement and anxiety over what may unfold. We can prepare for the upcoming event, but no one knows what the process – the actual journey- may contain to get to that endpoint. The pictures are taken, and the moment is forever frozen in time, but these do not begin to convey the effort or drama surrounding that one event. Now, what's next?
In today's Gospel, Jesus lets us know there is so much more that he wants to tell us, but we cannot handle it at this time. Most of me wants to know why not? I'm an adult. I can handle it. I'm in control of my own fate, but I then cringe at this line of thought. I hear, 'You can't handle the truth,' echoing in my head. Am I being truthful with myself to think that I won't need help bringing a new baby home, moving a parent into assisted living, confronting a diagnosis, recovering from surgery, beginning a new job or starting a different phase of a relationship? Do I really think that I have enough courage and stamina to make it through any situation on my own? The Serenity Prayer comes to mind. I need to focus on God's will for me and my life. I usually forget that I'm supposed to surrender to Him because of my arrogance and wanting to be in control. What was I thinking?
Thankfully, I'm in good company when forgetting my way in life. This prayer helps center me as I take my next step.
My Lord God, I have no idea where I am going. I do not see the road ahead of me. I cannot know for certain where it will end. Nor do I really know myself, and the fact that I think that I am following your will does not mean that I am actually doing so. But I believe that the desire to please you does in fact please you. And I hope I have that desire in all that I am doing. I hope that I will never do anything apart from that desire. And I know that if I do this you will lead me by the right road though I may know nothing about it. Therefore will I trust you always though I may seem to be lost and in the shadow of death. I will not fear, for you are ever with me, and you will never leave me to face my perils alone. Thomas Merton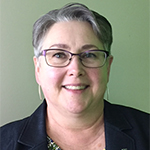 Beth Price is a Secular Franciscan (OFS) and spiritual director who has worked in several parish ministry roles during the last 20 years. She is a proud mother of 3 adult children. Beth currently works at Diocesan.