Life isn't fair! How many times have we heard or said this phrase in our lifetime? From a young age we think that the world isn't fair and oftentimes, the authority figures in our lives are quick to remind us of that fact. You would perhaps think that it would be different with God. That once we have a conversion and commit our lives to Christ that life would be fair from then on out right?
The first reading today from Ezekiel makes it clear that life does indeed become fair when we commit ourselves to Christ, but maybe not in the way we think of fairness. Like a good and loving Father would do, Ezekiel reminds us that when we complain about life being unfair, it is perhaps our attitude that needs a paradigm shift. He reminds us that it is our way of life that is not fair and due to this we have to deal with the consequences of our actions.
It's no secret that the battle cry of the last few generations has been freedom. We want freedom to do whatever we want, whenever we want, to whomever we want, with little to no consequences for our actions. The Lord gives us a new route to true freedom, not the superficial freedom that we think will satisfy but ultimately leaves us enslaved. I would say, and I think Ezekiel confirms this, that true freedom is not so much doing whatever we want to do, but doing what we ought to do. In other words, when we live in accord with how we were created, being made in the image and likeness of God, we are most fully at peace and most fully free.
Think about it, if we believe that God created us, then it is in living in accord with God's laws that we are most fully happy. No different from the child who does as their parents ask is most fully happy and fulfilled. It may seem unfair at the moment because we want what we want, but in the long run we know that this type of freedom that Christ offers will bring us true joy.
Freedom is a tricky thing because in allowing true freedom, God allows the possibility for sin and death. But as the Catechism reminds us in paragraph 1730, "God willed that man should be left in the hand of his own counsel, so that he might of his own accord seek his Creator and freely attain his full and blessed perfection by cleaving to him." God gave us freedom in order that we might fully live in his life, that we might choose it, that we might want it. Let's pray for the grace to use our intellect and will to make the right decisions that ultimately lead us to true peace and joy.
From all of us here at Diocesan, God bless!
---
¡La vida no es justa! ¿Cuántas veces hemos escuchado o dicho esta frase en nuestra vida? Desde una edad temprana pensamos que el mundo no es justo y, a menudo, las figuras de autoridad en nuestras vidas rápidamente nos recuerdan ese hecho. Tal vez pensarías que sería diferente con Dios. Una vez que tengamos una conversión y entreguemos nuestras vidas a Cristo, esa vida sería justa de ahí en adelante, ¿verdad?
La primera lectura de hoy de Ezequiel deja en claro que la vida se vuelve justa cuando nos comprometemos con Cristo, pero tal vez no en la forma en que pensamos en la justicia. Como haría un Padre bueno y amoroso, Ezequiel nos recuerda que cuando nos quejamos de que la vida es injusta, quizás sea nuestra actitud la que necesita un cambio de paradigma. Nos recuerda que es nuestra forma de vida la que no es justa y por eso tenemos que lidiar con las consecuencias de nuestras acciones.
No es ningún secreto que el grito de batalla de las últimas generaciones ha sido la libertad. Queremos libertad para hacer lo que queramos, cuando queramos, a quien queramos, con pocas o ninguna consecuencia de nuestras acciones. El Señor nos da una nueva ruta hacia la verdadera libertad, no la libertad superficial que pensamos que satisfará pero que finalmente nos deja esclavizados. Yo diría, y creo que Ezequiel lo confirma, que la verdadera libertad no es tanto hacer lo que queremos hacer, sino hacer lo que debemos hacer. En otras palabras, cuando vivimos de acuerdo cómo fuimos creados, siendo hechos a imagen y semejanza de Dios, estamos más plenamente en paz y más plenamente libres.
Piénsalo, si creemos que Dios nos creó, entonces es viviendo de acuerdo con las leyes de Dios que somos más plenamente felices. No es diferente del niño que hace lo que sus padres le piden y es más feliz y pleno. Puede parecer injusto en este momento porque queremos lo que queremos, pero a la larga sabemos que este tipo de libertad que ofrece Cristo nos traerá el verdadero gozo.
La libertad es algo engañoso porque al permitir la verdadera libertad, Dios permite la posibilidad del pecado y la muerte. Pero como nos recuerda el Catecismo en el párrafo 1730, "Quiso Dios "dejar al hombre en manos de su propia decisión", de modo que busque a su Creador sin coacciones y, adhiriéndose a Él, llegue libremente a la plena y feliz perfección." Dios nos dio la libertad para que vivamos plenamente en su vida, para que la elijamos y para que la deseemos. Oremos por la gracia de usar nuestro intelecto y voluntad para tomar las decisiones correctas que finalmente nos lleven a la verdadera paz y alegría.
De parte de todos nosotros aquí en Diocesan, ¡Dios los bendiga!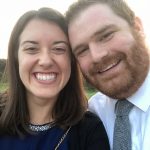 Tommy Shultz is a Business Development Representative for Diocesan. In this role he is committed to bringing the best software to dioceses and parishes while helping them evangelize on the digital continent. Tommy has worked in various diocese and parish roles since his graduation from Franciscan University with a Theology degree. He hopes to use his skills in evangelization, marketing, and communications, to serve the Church and bring the Good News to all. His favorite quote comes from St. John Paul II, who said, "A person is an entity of a sort to which the only proper and adequate way to relate is love."
Feature Image Credit: Piret Ilver, unsplash.com/photos/98MbUldcDJY