What is the first thing that comes to mind when you hear the word "listen"? Many would say "paying attention to sound, or listening to music". Others may think, listen is, "to hear something with thoughtful attention".

Has it ever crossed your mind that listening is key to your faith journey? It's a part of what I'm pondering this Lent as it came up during my most recent spiritual direction session. I was told a quote by Pope Francis: "This is the first step in order to grow on our journey of faith: listening."

I'm a cradle Catholic; baptized as an infant. I've heard the Word of God proclaimed during Mass since I was an infant. Many times, and not just in my youth, the Word went into my ears and I could recall what was said, yet was I really listening for the meaning?
The Catholic Catechism breaks it open this way:

CCC 144 "To obey (from the Latin ob-audire, to 'hear or listen to') in faith is to submit freely to the word that has been heard, because its truth is guaranteed by God, who is Truth itself. Abraham is the model of such obedience offered us by Sacred Scripture. The Virgin Mary is the most perfect embodiment."
Through out my youth and most of my adult life I did not submit myself to the Word that I heard. I absolutely would not compare myself to Abraham or the Virgin Mary. Yet when I hear the Psalm Response "If today you hear his voice, harden not your hearts," I also hear the words of our Holy Father Pope Francis: "When we listen to the Word of God, we obtain the courage and perseverance to offer the best of ourselves to others."

There is so much to listen to in the world today. Courage and perseverance are absolutely necessary to be able to sort through the multitude of media, images, words, and sounds that surround each of us. There have been times where all of these things have paralyzed me, making my own voice mute. It has made my ability to act on what I've heard a challenge.

It is so hard to listen to God's voice in the cacophony of the world. I need to remember the witness of the Virgin Mary and of Abraham who listened to the Word of God in the silence of their hearts.

Help me Lord, to remember to listen for your voice in the midst of all the noise because I cannot hear you if my heart and mind is full of other things. Help me to find the silence in my heart to hear your voice and return to You and your gracious, merciful ways. Amen.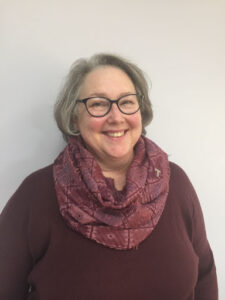 Beth Price is part of the customer care team at Diocesan. She is a Secular Franciscan (OFS) and a practicing spiritual director. Beth shares smiles, prayers, laughter, a listening ear and her heart with all of creation. Reach her here bprice@diocesan.com.
Feature Image Credit: Nick Fewings, https://unsplash.com/photos/mki48azlI2k