We are halfway through Lent if my math is correct. I checked with my math teacher, deacon husband – I counted correctly!
The words of Moses and Jesus hang together quite well today. They are about the rules. They matter. They are given to us for reasons. Following the rules will give us wisdom and intelligence that others will take notice of and appreciate this in us. The commandments of God are not to hold us back, but to give us freedom. They are parameters within which we are to behave. Following the commandments will give us rewards. For the Israelites, it meant land. For those of us who follow Jesus, it is salvation.
For both, it means relationship. With God and His Son. We are created in and for relationship. One of the relationships highlighted in both readings is that of parent and child; greater and least. Adults have a responsibility to teach the truth to children. And we do this with our words and actions. "Do as I say and not as I do" is a phrase that has no place with people of faith. And while it is obvious that adults teach children, when Jesus says "greater" and "least" it can also be in reference to those with differences in knowledge about the faith.
Are our thoughts, words and actions aligned with the commandments? That is the question I ask myself as I think and pray with today's readings. And not only in matters of faith, but in our daily life. Then, what are we teaching others? Punishment for leading yourself astray is one thing, but when you lead others astray you incur a greater one.
The commandments are meant to guide and lead us to a full life in Jesus Christ. As we continue in our Lenten observances, remind yourself why you follow the commandments. And if you have fallen away from your initial Lenten plans and sacrifices, begin again or make new ones that reflect your current situation.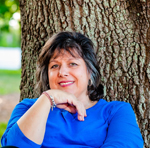 Deanna G. Bartalini, M.Ed.; M.P.A., is a certified spiritual director, writer, speaker and content creator. The LiveNotLukewarm.com online community is a place to inform, engage and inspire your Catholic faith. Her weekly Not Lukewarm Podcast gives you tips and tools to live out your faith in your daily life.
Feature Image Credit: Bournes senruoB, https://unsplash.com/photos/xCwPC-Vmhsg