During the Octave of Christmas, we also celebrate Mary, the Mother of God, because her openness, her YES, her humility and self-giving made Christmas possible. She opens herself fully to the will of God and He pours Himself out fully through her to us.
Today's Gospel begins with the shepherds who "went in haste" to find Mary and Joseph and the infant lying in a manger for a crib. We hear how they "made known the message that had been told them about this child" and how they glorified and praised God for all they had heard and seen. God chose "nobodies" to be the first Christ-bearers after Mary, because nobody is nobody to God!
Right in the middle of these words about the shepherds and the amazement they stirred by sharing this Good News, there is a verse about Mary, who "kept all these things, reflecting on them in her heart." This is part of the beauty of Mary: she knew wonder and awe, and she knew how to "be with" the events in which she was involved, to allow God to act and to simply ponder His action in the quiet of her heart.
Mary, Mother of God, is the foundation of the whole mystery of our redemption, from the Eternal Word's conception in her womb by the overshadowing of the Holy Spirit to our own conception in the womb of Mother Church "until Christ be fully formed in us" (Gal. 4:19). Mary cannot ever be anyone other than the Mother of God; everything before the arrival of Gabriel was preparing her for this role, and she cannot ever stop being Jesus' Mother! She is present at the Incarnation, the Passion and Death, and the Ascension of Jesus, and we also see her interceding for the Church by praying (with the disciples) the first novena for the coming of the Holy Spirit at Pentecost. Because in her fiat at the beginning of God's act of Redemption, she is both accepting God's gift for herself, and making possible the act of faith of the whole Church yet to come. She is God's Mother, and ours.
Mary, Mother of God, is our perfect example of complete receptivity to the Word and a ready YES to every breath, every movement of the Holy Spirit. Why? Love. These are the movements and assents of love. Love longs for encounter, relationship, and oneness. Love understands wonder and awe. Love never misses an opportunity to speak of the Beloved or to pour itself out for the "other."
During this holy season, let's continue to keep the warm sentiments of Christmas alive in our hearts and homes, so that, bright with the Love that comes to us in such humility, we might bring that light to every darkened place in our world.
---
Durante la Octava de Navidad también celebramos a María, la Madre de Dios, porque su apertura, su SÍ, su humildad y su entrega hicieron posible la Navidad. Ella se abre plenamente a la voluntad de Dios y Él se derrama plenamente a través de ella hacia nosotros.
El evangelio de hoy comienza con los pastores que "fueron a toda prisa" a buscar a María y a José y al niño acostados en un pesebre para su cuna. Escuchamos cómo "contaron lo que se les había dicho de aquel niño" y cómo glorificaron y alabaron a Dios por todo lo que habían oído y visto. Dios eligió a "nadie" para ser los primeros portadores de Cristo después de María, ¡porque nadie es nadie para Dios!
Justo en medio de estas palabras sobre los pastores y el asombro que suscitaron al compartir esta Buena Noticia, hay un verso sobre María, que "guardaba todas estas cosas y las meditaba en su corazón". Esto es parte de la belleza de María: conoció el asombro, y supo "estar con" los acontecimientos en los que estaba involucrada, para dejar actuar a Dios y simplemente meditar Su acción en la tranquilidad de su corazón.
María, Madre de Dios, es el fundamento de todo el misterio de nuestra redención, desde la concepción del Verbo Eterno en su seno por la sombra del Espíritu Santo hasta nuestra propia concepción en el seno de la Madre Iglesia "hasta que Cristo se forme plenamente en nosotros". " (Gálatas 4:19). María no puede ser jamás otra que la Madre de Dios; todo antes de la llegada de Gabriel la estaba preparando para este papel, ¡y no puede dejar de ser la Madre de Jesús! Ella está presente en la Encarnación, la Pasión y Muerte y la Ascensión de Jesús, y también la vemos interceder por la Iglesia rezando (con los discípulos) la primera novena por la venida del Espíritu Santo en Pentecostés. Porque en su fiat al comienzo del acto de redención de Dios, ella está a la vez aceptando el don de Dios para sí misma y haciendo posible el acto de fe de toda la Iglesia por venir. Ella es la Madre de Dios, y la nuestra.
María, Madre de Dios, es nuestro ejemplo perfecto de completa receptividad a la Palabra y de un SÍ dispuesto a cada respiro, a cada movimiento del Espíritu Santo. ¿Por qué? Amor. Estos son los movimientos y asentamientos del amor. El amor anhela el encuentro, la relación y la unidad. El amor entiende el asombro. El amor nunca pierde la oportunidad de hablar del Amado o de derramarse por el "otro".
Durante esta temporada santa, sigamos manteniendo vivos los cálidos sentimientos de la Navidad en nuestros corazones y hogares, para que, resplandecientes con el Amor que nos llega con tanta humildad, podamos llevar esa luz a cada lugar oscuro de nuestro mundo.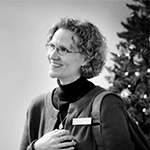 Kathryn Mulderink, MA, is married to Robert, Station Manager for Holy Family Radio. Together they have seven children (including Father Rob), and seven grandchildren. She is President of the local community of Secular Discalced Carmelites and has published five books and many articles. Over the last 30 years, she has worked as a teacher, headmistress, catechist, Pastoral Associate, and DRE, and as a writer and voice talent for Catholic Radio. Currently, she serves the Church by writing and speaking, and by collaborating with various parishes and to lead others to encounter Christ and engage their faith. Her website is www.KathrynTherese.com
Feature Image Credit: Danna Segura, cathopic.com/photo/13852-sagrada-familia