In this new year, we are reading through the First Letter of St. John and the Gospel according to St. John. The evangelist was known for being particularly close to Jesus, for being a mystic. He knows the significance and importance of Jesus Christ, and urges us to "remain in Him," never departing from the inspiration and instruction of the Holy Spirit.
The second John in our readings, St. John the Baptist, directs us to the same end in today's Gospel, taking pains to point to Christ and not to himself. He could have pointed to himself as a prophet, and more than a prophet, but he instead draws back as Jesus comes more clearly into focus. Both of these saints teach us to form an identity and a life in Jesus Christ, not accepting ourselves and our own designs as the be-all end-all.
For St. John the Evangelist, remaining in Jesus means remaining as close to Him as possible and following in His way. John was always close to Jesus, participating in the most significant experiences of the apostles along with Peter and James. He followed Him to the foot of the Cross and was at His side during the Last Supper. John always remained faithful, and after the Resurrection emphasized the importance of following God's commandments and loving God and neighbor in his letters.
For St. John the Baptist, he could not be as physically close to Christ, since his ministry was elsewhere and ended in his own martyrdom, but he "remained in Him" by constantly pointing to Him. John attracted a lot of attention with his asceticism and fiery preaching, but, as we see in the Gospel, he did not hesitate to refer everything to Jesus. Before the Jews get specific and ask him about particular messianic theories, he responds flatly, "I am not the Christ." He does not waste time redirecting the spotlight.
Following the examples of these saints, we remain in Christ by frequenting the Mass and prayer before the Blessed Sacrament, getting as close as possible to Jesus in this life. Again, we remain in Christ by praying for the grace to lead a virtuous life in service of God, by mortifying our disordered desires, and by frequenting the sources of grace, especially the Sacrament of Penance. Following after St. John the Baptist specifically, we can remain in Christ yet more deeply by referring praise or attention to Him, recognizing His glory as the purpose of all of our works and the end of all of our accolades.
Much of St. John the Evangelist's letters seems abstract and general, but it is made concrete when we see it lived out by its own human author and in St. John the Baptist. Remaining in Jesus Christ means to stay close to Him, physically and spiritually, and to point to Him without drawing unnecessary attention to ourselves and our own work. Sts. John the Evangelist and John the Baptist, pray for us!
---
En este nuevo año, estamos leyendo la Primera Carta de San Juan y el Evangelio según San Juan. El evangelista se caracterizó por ser particularmente cercano a Jesús y por ser un místico. Él conoce el significado y la importancia de Jesucristo, y nos motiva a "permanecer en Él", sin apartarnos nunca de la inspiración e instrucción del Espíritu Santo.
El segundo Juan en nuestras lecturas, San Juan Bautista, nos dirige al mismo fin en el Evangelio de hoy, esforzándose por señalar a Cristo y no a sí mismo. Podría haberse señalado a sí mismo como un profeta, y más que un profeta, pero en lugar de eso retrocede cuando Jesús se enfoca más claramente. Ambos santos nos enseñan a formar una identidad y una vida en Jesucristo, sin aceptarnos a nosotros mismos ni a nuestros propios diseños como el fin último.
Para San Juan Evangelista, permanecer en Jesús significa permanecer lo más cerca posible de Él y seguir Su camino. Juan siempre estuvo cerca de Jesús, participando en las experiencias más significativas de los apóstoles junto con Pedro y Santiago. Lo siguió hasta el pie de la Cruz y estuvo a su lado durante la Última Cena. Juan siempre se mantuvo fiel, y después de la Resurrección enfatizó en sus cartas la importancia de seguir los mandamientos de Dios y amar a Dios y al prójimo.
Para San Juan Bautista, no podía estar tan cerca físicamente de Cristo, ya que su ministerio estaba en otra parte y terminó en su propio martirio, pero "permaneció en Él" señalándole constantemente. Juan llamó mucho la atención con su ascetismo y ardiente predicación, pero, como vemos en el Evangelio, no dudó en referir todo a Jesús. Antes de que los judíos sean específicos y le pregunten sobre teorías mesiánicas particulares, él responde rotundamente: "Yo no soy el Cristo". No pierde el tiempo en redirigir la atención.
Siguiendo los ejemplos de estos santos, permanecemos en Cristo frecuentando la Misa y la oración ante el Santísimo Sacramento, acercándonos lo más posible a Jesús en esta vida. De nuevo, permanecemos en Cristo orando por la gracia de llevar una vida virtuosa al servicio de Dios, mortificando nuestros deseos desordenados y frecuentando las fuentes de la gracia, especialmente el Sacramento de la Penitencia. Siguiendo específicamente a San Juan Bautista, podemos permanecer en Cristo aún más profundamente dirigiendo la alabanza o atención a Él, reconociendo Su gloria como el propósito de todas nuestras obras y el fin de todos nuestros elogios.
Gran parte de las cartas de San Juan Evangelista parecen abstractas y generales, pero se hacen concretas cuando las vemos vividas por su propio autor humano y en San Juan Bautista. Permanecer en Jesucristo significa estar cerca de Él, física y espiritualmente, y dirigirnos a Él sin llamar la atención innecesariamente a nosotros mismos y nuestro propio trabajo. Santos ¡Juan Evangelista y Juan Bautista, rueguen por nosotros!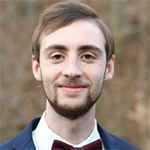 David Dashiell is a freelance author and editor in Nashville, Tennessee. He has a master's degree in theology from Franciscan University, and is the editor of the anthology Ever Ancient, Ever New: Why Younger Generations Are Embracing Traditional Catholicism.
Feature Image Credit: Giorgio Parravicini, unsplash.com/photos/12IHVEFRacQ