"I have told you this so that you might have peace in me. In the world you will have trouble, but take courage, I have conquered the world" (Jn 16:29-33) are among the last words Jesus speaks to the Apostles before entering his passion. He is offering words of consolation not just for the events soon to transpire as he crucified for our sins but for the days and years to follow, for the Apostles and for us, as well.
What Jesus offers is truly the peace this world cannot give because any earthly consolation we cling to will eventually fade or be disrupted by our next crisis or passing concern. Earlier in John's Gospel, Jesus declares, "Peace I leave with you; my Peace I give to you. I do not give to you as the world gives. Do not let your hearts be troubled, and do not let them be afraid." If Jesus repeats a message, it is to assure that his disciples don't miss its importance.
So, what causes your heart to be troubled? Do you currently face tribulations robbing you of peace? Do you believe that in Jesus, you will find lasting peace?
In Luke 10:34, we met two sisters, Mary and Martha of Bethany, whose interaction with Jesus during a visit to their home teaches us all a valuable lesson on maintaining a peaceful heart. Martha, busy cleaning, preparing the meal, and serving her guests (of which Jesus is among), is angry with her sister's lack of assistance. Perturbed, she implores Jesus to force her sister to help. Mary, we find at the feet of Jesus, listening and learning from the Master. Jesus commends Mary's choosing the good portion (or the better part) and tells Martha it will not be taken from her. Martha is anxious and worried about many things, but Jesus points out only one thing is needed. He, and our time with him, is that one thing! Without time for worship and prayer, finding peace in Jesus – the peace this world cannot give – may be impossible.
Let's explore one more verse. How would you answer Jesus' question, "Do you now believe?" If not in him, then where do you place your trust? Faith is one of our greatest treasures, and "For where your treasure is, there your heart will be also" (Luke 12:34). Our peace can be shattered through a lack of faith, belief, and trust in the one true God; if you rely on the fleeting, you will never rest on secure and solid ground.
Take heart, for we know the rest of the story. Jesus has conquered the world; he has overcome death and opened the gates of heaven. Knowing that alone, nothing should shake our soul or rob our Peace.
---
"Les he dicho estas cosas, para que tengan paz en mí. En el mundo tendrán tribulaciones; pero tengan valor, porque yo he vencido al mundo" (Jn 16,29-33) son algunas de las últimas palabras que Jesús dirige a los Apóstoles antes de entrar en su pasión. Está ofreciendo palabras de consuelo no sólo por los eventos que pronto ocurrirán cuando fue crucificado por nuestros pecados, sino también por los días y años siguientes, para los Apóstoles y para nosotros.
Lo que Jesús ofrece es verdaderamente la paz que este mundo no puede dar porque cualquier consuelo terrenal al que nos aferramos eventualmente se desvanecerá o será interrumpido por nuestra próxima crisis o preocupación pasajera. Anteriormente en el Evangelio de Juan, Jesús declara: "La paz les dejo; mi Paz les doy. No se lo doy como lo da el mundo. No se turbe su corazón, ni tenga miedo." Si Jesús repite un mensaje, es para asegurarse de que sus discípulos no pierdan de vista su importancia.
Entonces, ¿qué hace que tu corazón se turbe? ¿Actualmente enfrentas tribulaciones que te roban la paz? ¿Crees que en Jesús encontrarás paz duradera?
En Lucas 10:34, nos encontramos con dos hermanas, María y Marta de Betania, cuya interacción con Jesús durante una visita a su hogar nos enseña a todos una valiosa lección sobre cómo mantener un corazón en paz. Marta, ocupada limpiando, preparando la comida y sirviendo a sus invitados (incluyendo a Jesús), está enojada por la falta de ayuda de su hermana. Perturbada, implora a Jesús que obligue a su hermana a ayudar. María, se encuentra a los pies de Jesús, escuchando y aprendiendo del Maestro. Jesús felicita a María por elegir la buena parte (o la mejor parte) y le dice a Marta que no se la quitará. Marta está ansiosa y preocupada por muchas cosas, pero Jesús señala que solo se necesita una cosa, ¡él, y nuestro tiempo con él! Sin tiempo para la adoración y la oración, encontrar la paz en Jesús, la paz que este mundo no puede dar, puede ser imposible.
Exploremos un versículo más. ¿Cómo responderías a la pregunta de Jesús: "¿De veras creen?" Si no es en él, ¿dónde pones tu confianza? La fe es uno de nuestros mayores tesoros, y "Porque donde esté su tesoro, allí estará también su corazón" (Lucas 12:34). Nuestra paz puede ser destrozada por la falta de fe, creencia y confianza en el único Dios verdadero; si confías en lo pasajero, nunca descansarás en terreno seguro y sólido.
Anímense, porque conocemos el resto de la historia. Jesús ha vencido al mundo; ha vencido a la muerte y ha abierto las puertas del cielo. Sabiendo eso, nada debe sacudir nuestra alma o robar nuestra paz.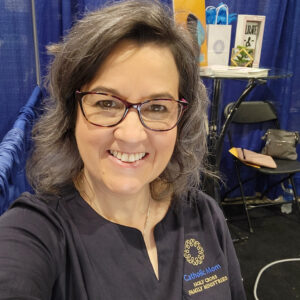 Allison Gingras ( www.ReconciledToYou.com ) — Shares her love of the Catholic Faith with stories, laughter, and honesty as experienced in the ordinary of life! Her writing includes Encountering Signs of Faith (Ave Maria Press) and the Stay Connected Journals for Women (OSV). Allison is a Catholic Digital Media Specialist for Family Rosary, Catholic Mom, and the Fall River Diocese. She hosts A Seeking Heart podcast and is co-host of the Catholic Momcast podcast.
Feature Image Credit: Amor Santo, cathopic.com/photo/2657-after-taking-the-communion
The views and opinions expressed in the Inspiration Daily blog are solely those of the original authors and contributors. These views and opinions do not necessarily represent those of Diocesan, the Diocesan staff, or other contributors to this blog.