I chose the image for today because I couldn't stop laughing when I saw it. Such a simple photo was able to bring joy. Lately, our life in the Shultz household has been interesting. We moved houses, had to care for our dog who broke its leg and have had some very late nights. Through all of this, it's important to take moments and find joy even in the little things. I think it's similar with faith.
It's easy to look at faith as just a set of rules or to look at the state of the world and wonder what is going on. But as the first reading reminds us today, we should rejoice heartily for our King shall come to us. Are we the types of Christians who give so much joy at what Christ has done for us that it is contagious to others? Have we preached the Gospel with a joy that matches our happiest of moments? Have we found joy through Christ?
We then hear in the Gospel that God will give us rest. I know this week we could use joy and rest. It's waiting for us in Christ. Some of the most profound moments I have had with God have been very simple moments where I have realized that God is with me. I think the key to living in joy is realizing the moments throughout the day that God is with us and bringing us his love.
I encourage you today, look for those moments, and rest in them. Let Christ bring you his joy and rest today. God Bless!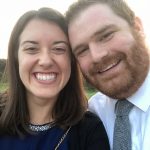 Tommy Shultz is Director of Evangelization for the North Allegan Catholic Collaborative and the founder of Rodzinka Ministries. In these roles, he is committed to bringing all those he meets into a deeper relationship with Christ. Tommy has a heart and a flair for inspiring people to live their faith every day. He has worked in various youth ministry, adult ministry, and diocesan roles. He has been a featured speaker at retreats and events across the country. His mission and drive have been especially inspired by St. John Paul II's teachings. Tommy is blessed to be able to learn from the numerous parishes he visits and pass that experience on in his presentations. With a degree in Theology from Franciscan University, Tommy hopes to use his knowledge to help all people understand the beauty of The Faith.