Tim Cooper, my 7th grade teacher, brought Harper Lee's "To Kill A Mockingbird" to vibrant life. Atticus Finch, champion of language and virtue, dares to defend the innocent without drawing a sword. The pen is surely mightier.
I wonder if Harper Lee was inspired by today's First Reading. In both "To Kill A Mockingbird" and the passage from Daniel, an innocent, lower class person is convicted of a crime by higher class persons. The major difference between the stories is that Daniel proves to the assembly that Susanna is innocent and the elders are guilty. He does so by questioning them separately and finding the discrepancies in their stories:
"It was under a Mastic Tree."
"It was under an Oak Tree."
Oops; should have rehearsed that, elders. Guilty.
In the Gospel, Jesus proves the validity of a profound statement that He says by the same courtroom law:
Jesus: "I am the light of the world. Whoever follows me will not walk in darkness but will have the light of life."
Pharisees: "You testify on your own behalf, so your testimony cannot be verified."
Jesus: "Even in your law it is written that the testimony of two men can be verified. I testify on my behalf and so does the Father who sent me."
-John 8:12-20
On a literary plane, the first reading from Daniel holds up as a satisfying story. Reincorporating the reading's motif into the Gospel heightens the message all the more: "The Author of Truth will defend the Truth."
Together, they are an edifying collection of stories; They're simply good! But these short stories are not just a "fun read" or for recreation. They are accounts that verify how reliable God is.
Innocent Susanna was saved from death because she cried out to God and the Holy Spirit moved Daniel to defend her. The Son, never without the Father, stands verified against the Pharisees' test of law.
"Confidence and nothing else is what leads us to love."
-The Little Flower
How great ought our confidence be if we know that we are never alone? When we call on One, we call on a Reliable/Divine Community Who will support us. Continue to grow in confidence in God's reliability. Draw deeper into the life of the Divine Community. Return to Him with your whole heart.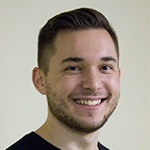 During the week, Matthew Juliano works as a Direct Support Professional with individuals who have intellectual and developmental disabilities. Visit his Patreon page to learn more about his job; there you can also find more reflections on life and faith. On weekends, he travels as the drummer for Full Armor Band to play retreats and conferences. Most importantly, Matthew is planning and preparing to wed his fiancé this July.