Take only a walking stick and sandals. I'll be honest, I don't know if I could do it! Jesus thinks of everything I would try to stuff in my pockets or layer up so I had some mental security about how I would sleep that night. Just reading these directions fills me up with "What ifs." And, I would imagine, my concerns are precisely what Jesus wants to dispel from His disciples.
Jesus, the Son of God, gave the disciples authority over demons and the charge to preach the Word of God he taught them. Their whole purpose, their reason for going into these towns, was because the Son of God had commissioned them to go. Their mission was not their own. They weren't traveling for pleasure or business or because they had some personal stake in the venture. They were sent, with clear and distinct purpose.
To further emphasize the unique quality of this mission, Jesus insists that they place their bodily security in the hands of God the Father as well. The extreme reliance on God's Providence further encouraged them to realize that their mission was one of Godly proportions. This was no ordinary jaunt through the countryside.
Jesus continues to send disciples today. Though the methods and directions of the sending may look different from the original ones He gave the disciples, the message and purpose has not changed. We are each uniquely called by Christ in baptism. From this calling, we are each uniquely sent out into the world to bear witness to the Good News.
It would be wise, especially as Lent approaches, to consider what we are choosing to carry with us as we walk in mission for Jesus. Have we become weighed down by the trappings of the world, our business endeavors, an overemphasis on social media, politics or technology? If Jesus were to speak to you today, what would He insist you bring along on the mission He has for you? What would He insist you leave behind?
As a way to discern the answers to these questions, consider incorporating a weekly fast into your routine. For just one week (Sunday excluded), select one fast. Then, select a new one for the following week. Some examples would be refrain from social media scrolling, no desserts/sweets, no alcohol, refrain from eating between meals, no unplanned spending, or not using the snooze button on your alarm. What is challenging to leave behind? What is an easy fast? Use that knowledge to help you discern the things you are clinging a little too tightly to, the things that maybe Jesus is calling you to let go of so you can be a more effective evangelist for His Kingdom.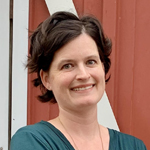 Kate Taliaferro is an Air Force wife and mother. She is blessed to be able to homeschool, bake bread and fold endless piles of laundry. When not planning a school day, writing a blog post or cooking pasta, Kate can be found curled up with a book or working with some kind of fiber craft. Kate blogs at DailyGraces.net.
Feature Image Credit: danielkirsch, https://pixabay.com/photos/shoe-broken-old-sandal-flip-flop-4321178/