"For it is on account of the hope of Israel that I wear these chains."
After Readings today's First Reading, I can't help but be captivated by St. Paul's heroic courage. Paul was in prison. He was handed over to the Romans from Jerusalem, though they found no reason against him. The Jews objected and made sure he was imprisoned. He remained in prison for two full years. Paul did not spend those two years of his life in despair. He did not have a season of darkness or doubt.
Paul lived those two years in prison as a season of glory to God. He lived in full freedom, even with chains upon him. He preached the Good News and proclaimed God's Kingdom from this place "with complete assurance" and "without hindrance… he taught about the Lord Jesus Christ." If that does not wildly inspire you-you may need to reread the First Reading. When I genuinely put myself in Paul's shoes, I am not sure I'd be that courageous. Though it may seem that Paul's freedom was taken away, it is by the Holy Spirit that Paul was truly free in his imprisonment. He was free to preach God's Word. "Now the LORD is the Spirit, and where the Spirit of the LORD is, there is freedom" (2 Cor 3:17). Paul is a witness to this truth. The Spirit of God was with him. He lived in that freedom and offered his chains for the hope of Israel, God's people.
Today, if you feel like you are living in chains, look to St. Paul's intercession. Ask him to pray for you and with you. Today, if you do not know the freedom of the Lord, ask for the Holy Spirit to bring that freedom into your life. If you are in a season of hardship that feels unending- offer it in hope for His Body, the Church. The story of St. Paul is powerful, inspiring, and heroic. It is stories like his that bring me so much hope in my journey towards Heaven. Today, let us radically walk with St. Paul. Let us take his hand as we strive to walk true freedom.
St. Paul, pray for us.
Holy Spirit, bring us Your freedom.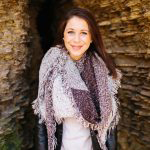 Briana is a Catholic Doctrine teacher at Our Lady of Mt. Carmel school in Cleveland, OH. She received her Bachelor of Arts in Theology and Catechetics from the Franciscan University of Steubenville, OH and is excited to use these skills to bring her students closer to Christ and His Church. "My soul has been refined and I can raise my head like a flower after a storm." -St. Therese