How can slaves be set free if they do not know they are captive? If they are comfortable in their captivity, why would they take the risks necessary to get to freedom? If you are the one sent to free them, how do you convince them to let go of their comfort and follow you out of captivity?
This is what Jesus is trying to do with the Pharisees. They do not know they are enslaved, and they do not want anything to change – they are comfortable in their position of authority over others and their prestige, and they see Jesus as a threat to their position. And Jesus is saying, "Listen to me and you can be REALLY FREE, and walk in Truth as sons of the Father in His glorious Kingdom for all eternity!" The Pharisees response is something like, "Hey, who do you think you are? We are free enough, and besides that, we are assured of our own righteousness because, you know, Abraham. So we are good."
Jesus tells them that they aren't really Abraham's children, because if they were, they would recognize Who He Is. They have distorted their patrimony, turned the laws against others to benefit themselves, and let pride rule their hearts, setting themselves above all and against the One God sent. They have trusted in their own ideas and sought their own glory. The Pharisees seem to think that some exterior nod to Abraham is enough, but Jesus calls us to a complete interior transformation! He makes us a new creation, if we accept that we need to be made new.
What about us? Do we recognize that we are slaves to anything that distracts us from the One God sent, and keeps us from putting God above all else? "Everyone who commits sin is a slave of sin," but those who take their life in Christ seriously – who love God with their whole heart, their whole mind, and their whole strength – are set free from sin and become true children of the Father. How do we do this? We dwell in God's loving Word, which is Truth, so that we are his true disciples; in doing this, we learn to conform ourselves to God's will, as Jesus did, and we are transformed in love to become one with HIM.
Lent is about re-focusing on this transformation in specific ways. It's not too late to ask the Lord where we need to surrender to Him so that we can be made new!
---
¿Cómo pueden ser liberados los esclavos si no saben que están cautivos? Si se sienten cómodos en su cautiverio, ¿por qué tomarían los riesgos necesarios para llegar a la libertad? Si tú eres el enviado para liberarlos, ¿cómo los convences a abandonar su comodidad y seguirte fuera del cautiverio?
Esto es lo que Jesús está tratando de hacer con los fariseos. No saben que están esclavizados y no quieren que nada cambie, se sienten cómodos en su posición de autoridad sobre los demás y su prestigio, y ven a Jesús como una amenaza para su posición. Y Jesús está diciendo: "¡Escúchenme y podrán ser REALMENTE LIBRES, y caminar en la Verdad como hijos del Padre en Su Reino glorioso por toda la eternidad!" La respuesta de los fariseos es algo así como: "Oye, ¿quién crees que eres? Somos lo suficientemente libres, y además de eso, estamos seguros de nuestra propia justicia porque, ya sabes, somos antecedentes de Abraham. Así que estamos bien".
Jesús les dice que en realidad no son hijos de Abraham, porque si lo fueran, reconocerían quién es Él. Han desvirtuado su patrimonio, vuelto las leyes en contra de los demás para su propio beneficio, y dejado que la soberbia gobierne sus corazones, poniéndose por encima de todo y en contra del Único enviado de Dios. Han confiado en sus propias ideas y han buscado su propia gloria. Los fariseos parecen pensar que basta algún guiño exterior a Abraham, ¡pero Jesús nos llama a una transformación interior total! Él nos hace una nueva creación, si aceptamos que necesitamos ser recreados.
¿Qué pasa con nosotros? ¿Reconocemos que somos esclavos de cualquier cosa que nos distraiga del Único enviado por Dios y nos impida poner a Dios por encima de todo? "Todo el que comete pecado es esclavo del pecado", pero aquellos que toman en serio su vida en Cristo, que aman a Dios con todo su corazón, con toda su mente y con todas sus fuerzas, son liberados del pecado y se convierten en verdaderos hijos del Padre. ¿Cómo hacemos esto? Habitamos en la Palabra amorosa de Dios, que es la Verdad, para que seamos sus verdaderos discípulos; al hacer esto, aprendemos a conformarnos a la voluntad de Dios, como lo hizo Jesús, y somos transformados en el amor para volvernos uno con ÉL.
La Cuaresma se trata de volver a enfocarse en esta transformación de maneras específicas. ¡No es demasiado tarde para preguntarle al Señor dónde debemos rendirnos para que nos pueda hacer una nueva creación!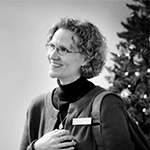 Kathryn Mulderink, MA, is married to Robert, Station Manager for Holy Family Radio. Together they have seven children (including Father Rob), and seven grandchildren. She is President of the local community of Secular Discalced Carmelites and has published five books and many articles. Over the last 30 years, she has worked as a teacher, headmistress, catechist, Pastoral Associate, and DRE, and as a writer and voice talent for Catholic Radio. Currently, she serves the Church by writing and speaking, and by collaborating with various parishes and to lead others to encounter Christ and engage their faith. Her website is www.KathrynTherese.com
Feature Image Credit: Rui Silva sj, https://unsplash.com/photos/V0HmNoWDkbU