As I write this, the days are getting shorter. In a few weeks we will "fall behind" and the sun will set earlier. When you read this we will be on the other side, closer to the "spring forward" clock change and longer days. But the leaves are falling now. The summer plants have had enough and the flannel shirts are back in rotation. Soon we will feel like the people in darkness again.
As I grow closer to God I'm more in awe of his genius and how his creation so beautifully mirrors the spiritual life. The natural seasons guide us through times of literal darkness. We watch plants die and trees go dormant. There is no growth in the darkness. Nature sleeps.
In the spiritual life there are dark times also. St. Teresa of Calcutta and St. John of the Cross wrote of their dark nights of the soul. A natural part of our spiritual life includes times when God seems far away. Our prayer is dry. We don't feel the emotions from worship and prayer that we enjoy and associate with a close relationship with Jesus. These are hard times. This is the winter of our spiritual life.
In today's Gospel Jesus tells us that those who know him will not walk in darkness. He is the light. In this spiritual winter, we can know that spiritual spring, like natural spring, will indeed come again. While we may not often see the sun, we know from experience it is there. We know that nature will come alive and thrive as the days grow longer.
Winter in the spiritual life is a time when we need to have faith that we will see the Son again. He is there even though he seems to be behind the clouds in our hearts. We can and should have faith that spiritual spring will return and we will be all the more grateful and appreciative because we experienced the winter.
Jesus is the light. Just as tulips and daffodils push through the cold soil to reach toward heaven, we too push through the dry times reaching toward the light of Christ.
---
Mientras escribo esto, los días son cada vez más cortos. En unas pocas semanas nos cambiaremos la hora y el sol se pondrá más temprano. Cuando leas esto, estaremos del otro lado, más cerca del cambio de reloj de primavera y con días más largos. Pero las hojas están cayendo ahora. Las plantas de verano ya se han muerto y las camisas de franela están de vuelta. Pronto volveremos a sentirnos como el pueblo en la oscuridad.
A medida que me acerco más a Dios, me asombro más de su genio y cómo su creación refleja tan bellamente la vida espiritual. Las estaciones naturales nos guían a través de tiempos de oscuridad literal. Vemos las plantas morir y los árboles quedar inactivos. No hay crecimiento en la oscuridad. La naturaleza duerme.
En la vida espiritual también hay tiempos oscuros. Santa Teresa de Calcuta y San Juan de la Cruz escribieron sobre sus noches oscuras del alma. Una parte natural de nuestra vida espiritual incluye momentos en los que Dios parece estar muy lejos. Nuestra oración es seca. No sentimos las emociones de la adoración y la oración que disfrutamos y asociamos con una relación cercana con Jesús. Estos son tiempos difíciles. Este es el invierno de nuestra vida espiritual.
En el Evangelio de hoy Jesús nos dice que quien lo conoce no andará en tinieblas. Él es la luz. En este invierno espiritual, podemos saber que la primavera espiritual, como la primavera natural, vendrá de nuevo. Si bien es posible que no veamos el sol con frecuencia, sabemos por experiencia que está allí. Sabemos que la naturaleza brotará y prosperará a medida que los días se hagan más largos.
Durante los tiempos de invierno en la vida espiritual hay que tener fe en que volveremos a ver al Hijo. Él está allí aunque parece estar detrás de las nubes en nuestros corazones. Podemos y debemos tener fe en que la primavera espiritual regresará y estaremos aún más agradecidos porque hemos experimentado el invierno.
Jesús es la luz. Así como los tulipanes y los narcisos se abren paso a través de la tierra fría para alcanzar el cielo, nosotros también nos abrimos paso a través de los tiempos secos para alcanzar la luz de Cristo.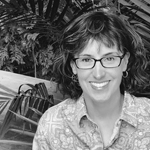 Merridith Frediani loves words and is delighted by good sentences. She also loves Lake Michigan, dahlias, the first sip of hot coffee in the morning, millennials, and playing Sheepshead with her husband and three kids. She writes for Catholic Mom, Diocesan.com, and her local Catholic Herald. Her first book Draw Close to Jesus: A Woman's Guide to Adoration is available at Our Sunday Visitor and Amazon. You can learn more at merridithfrediani.com.
Feature Image Credit: Joshua J. Cotten, unsplash.com/photos/T4ApSOlhD3g