When I look back at all the roadblocks and stop lights in my life, I tend to think those situations were not of God. As if anything preventing me from getting where I wanted to be was the opposite of God's doing. In our Christian culture, it is common to feel this way and automatically get the response that it's the opposite of Him- it's satan holding us back.
When we read today's First Reading from the Acts of the Apostles, we hear how the disciples were prevented from spreading the Gospel message. This is a time when most of us would react by saying, "That's the devil preventing them!" or "That's satan trying to work against them!". God would never prevent His disciples from traveling to proclaim His Word, right?!
If we read the Scripture closely, we find that it specifically states that they had been "prevented by the Holy Spirit" It goes on to say, "The Spirit of Jesus did not allow them."
For some reason, I had to read that over and over again… The Spirit of God prevented them… The Spirit of Jesus did not allow them. How often has the Holy Spirit put huge caution tape, blocking, and ginormous stop signs in my own life? And how often did I think it was the opposite of His Spirit? Looking over my 4th graders Unit 3 Test, one question asked, "How can the Holy Spirit be your Helper and Guide?"
Looking back on those moments now, I can clearly see that it was the Spirit of Jesus, the Spirit of Love- my Helper and my Guide. This Scripture has taught me how necessary it is to keep my heart and mind open to His Spirit- even in so-called "setbacks". Those particular setbacks and roadblocks in the end were for my best interest, just as it was for the disciples.
What setbacks and roadblocks have you experienced in your own life? How could some of them have been for your own protection, safety, health? Where has the Spirit of God been leading you by preventing you in some way? And like I asked my dear students, how can the Holy Spirit be your Helper and Guide today? Let Him guide you, redirect you, and prevent you. He is ultimately leading us onto the path of Love- our journey and road to Heaven.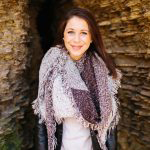 Briana is a Catholic Doctrine teacher at Our Lady of Mt. Carmel school in Cleveland, OH. She received her Bachelor of Arts in Theology and Catechetics from the Franciscan University of Steubenville, OH and is excited to use these skills to bring her students closer to Christ and His Church. "My soul has been refined and I can raise my head like a flower after a storm." -St. Therese