"He took the child by the hand and said to her, 'Talitha koum,'
which means, 'Little girl, I say to you, arise!' The girl, a child of twelve, arose immediately and walked around."
The Gospel today tells the beautiful, vague, story of someone who may or may not have existed thousands of years ago and was healed from an ailment by medicine but she irrationally attributed it to the power of Jesus, who was just a good person that taught a lot of good things.
How often do we have this mindset when we read powerful verses like those in the readings today? I think because we see so much suffering and pain around us we automatically think that somehow Jesus either didn't have the power we read about or it has dwindled dramatically due to the passing of time.
But take just a second and think about the past five years of your life. How many things have happened that couldn't be a coincidence? How many graces and blessings have come out of even seemingly impossible or devastating circumstances? How often have you encountered people or situations which gave you hope when there felt like there was none. This could be as simple as someone paying for your meal in the drive-thru to something dramatic like physical healing.
I don't think God's power was exaggerated or has somehow dwindled with time, I just think we have forgotten how to listen for it and see Him work. You turn on the news and hear of the most devastating scenarios imaginable and it's easy to believe that this is the state of the world. But the good moments that happen every day, the moments that bring hope and joy to the world, go largely unnoticed.
I was in a grocery store the other day and a nice man had some things on the counter and was one dollar short from what he needed to pay for his items. He decided he would have to put his pop back, even though he really wanted it. I told him I would pay the extra. You should have seen the look on his face as he turned to me and said, "Thank you, nice things like this just don't happen anymore." My immediate thought was to smile back and agree with him, but in a moment of the outpouring of the Holy Spirit, I simply said, "Yeah they do. They just did."
I don't tell this story to lift myself up, it was just a dollar. I tell it because it's a good reminder that our immediate reaction to the negativity in the world is to believe it is all there is. Jesus is still as powerful today as He was thousands of years ago. The question is, do we believe that? I challenge you to ask something great of God today. Reach out in faith and see the power that was witnessed in the Gospel so many years ago by a real crowd, who breathed real air, and had real human experiences. Turning the Gospels into cute little fiction stories does not do justice to the power of God. From all of us here at Diocesan, God Bless!
"You pay God a compliment by asking great things of Him." St. Teresa of Avila.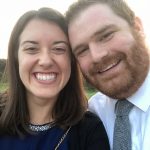 Tommy Shultz is a Solutions Evangelist for Diocesan. In that role, he is committed to coaching parishes and dioceses on authentic and effective Catholic communication. Tommy has a heart and a flair for inspiring people to live their faith every day. He has worked in various youth ministry, adult ministry, and diocesan roles. He has been a featured speaker at retreats and events across the country. His mission and drive have been especially inspired by St. John Paul II's teachings. Tommy is blessed to be able to learn from the numerous parishes he visits and pass that experience on in his presentations. Contact him at tshultz@diocesan.com.