Today is finally Friday! If you're like me, you've been looking forward to this day all week. I have plans to take a six-hour road trip to visit my cousins, but maybe you're looking forward to just taking some time to relax or spend quality time with the people you love. Either way, a weekend sound great, so TGIF!
Did you do it? Did you thank God that it's Friday? I mean, did you literally praise God for giving us this wonderful Friday that we have lived to see? If not, you should! He has given us the gift of life on this glorious Friday so that we can experience His glory in all that we see and for that we should be grateful.
The phrase "thank God" has become so standard that sometimes (or all the time) we forget to actually thank God. This came to mind because I recently met an English professor that does talks on words changing throughout time and cultures. He specifically discussed the word "awesome" and how it used to be reserved for something terrifying, then was used to describe something so absolutely amazing that it took your breath away and filled you with awe. Now we use it to describe a shopping cart that doesn't have a wobbly wheel. Not exactly the same connotation as the original meaning.
In a similar way, we don't use the phrase "thank God" in the same way it was originally meant. We say it in such a flippant way that we don't think about the prayer that we are just throwing away.
Now, I'm not saying that we need to stop saying "thank God," but I do think we should actually thank Him. We should thank him for Fridays, as well as the amazingly awesome things and the awesome, no-wobbly shopping carts. He has given us the gift of life on this glorious Friday, so why shouldn't we thank him for the little gifts He has placed in our lives?
In 2013, Pope Francis said, "If we can realize that everything is God's gift, how happy will our hearts be! Everything is a gift." I want to be happy and I imagine you do too. Thank God it's Friday.
To read more on what Pope Francis has to say about finding happiness, check out his book.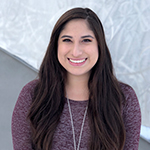 Veronica Alvarado is a born and raised Texan currently living in Michigan. Since graduating from Texas A&M University, Veronica has published various articles in the Catholic Diocese of Austin's official newspaper, the Catholic Spirit, and other local publications. She now works as the Content Specialist in Diocesan's Web Department.