In today's Gospel, we have Jesus reading the Isaiah scroll in the synagogue. He finishes and boldly proclaims that he is the fulfillment of this passage. It is amazing enough that anyone remained to listen to him after that. But the Gospel goes on to say that all were amazed at the gracious words that came from his mouth. Did you ever wonder: what were those gracious words? This recounting does not tell us. It only goes on to say that some remarked that he was the son of a carpenter, a lowly workman. But Jesus tells them that the passage is speaking of him, and all should take notice.
I thought long and hard at what these words may mean for us today, in light of our Christian Faith. Well, I've concluded that they are proclaiming to us the eternal light of Hope.
Can you put yourself into this passage? Are you one of the poor awaiting some glad tidings? Not just money/possession poor. Are you, perhaps, poor in faith or good works? Poor in compassion and empathy or meaning in life? Will you allow yourself to hear the glad tidings?
Are you one of the captives? Not just captivity of imprisonment, but captive to addiction, sin, lust, greed or any of the great sins. Will you allow yourself to be set free?
Are you one of the blind? Not physically blind, but blind to the need around you. Will you allow yourself to see?
Or are you one of the oppressed? Oppressed by your struggles, a bad marriage or trapped in self-centeredness. Will you allow yourself to be free of such oppression?
The Lord is proclaiming a year acceptable to the Lord. This "year" is your life, as long as it may be. And you are called to be set free of the bonds of this world, and to be steeped in the love of the Lord and his Hope for your life. Then, once you have let the Lord set you free, you become the anointed one who will bring the glad tidings, proclaim liberty, recover the sight of others and let the oppressed free. Do you see who these folks are? Can you empathize with the plight of those still struggling? You can help them. Even in the midst of your journey to this freedom in hope, you can extend your help to others.
God's Son is the vessel of Hope we all need for this world to be free of all that oppresses it. Hold out your hands, take His, and see the miracle of the glow of Hope that will surround you. Jesus will not let you down if your heart is open.
God Bless.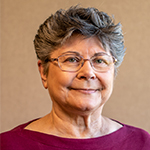 Jeanne Penoyar, an Accounts Manager here at Diocesan, is currently a Lector at St. Anthony of Padua parish in Grand Rapids, MI. While at St. Thomas the Apostle, Grand Rapids, Jeanne was a Lector, Cantor, Coordinator of Special Liturgies, Coordinator of lectors and, at one time, chair of the Liturgy Commission. In a past life, secretary/bookkeeper at the Basilica of St. Adalbert where she ran the RCIA program for the Steepletown parishes. And she loves to write! When relaxing, she likes reading and word puzzles. You can contact her at jpenoyar@diocesan.com.