Sometimes people in the Church speak about devotion to the Sacred Heart of Jesus as goopy spirituality. I prefer to think of our different expressions of devotion as a matter of preference. Some people love gaudy colors and lights, and some people prefer something understated and are happy with minimalist ascetics. But no matter which way we prefer to slice the cake, today is a Solemnity. It is not a memorial with or without a capital 'm" and it is not a feast day. It is one of the highest expression of our adoration and worship of Almighty God.
Yet, does this devotion stop at a beautiful image on a mantle piece that is there as a sign of Our Lord's protection and blessing upon our homes and families?
Does this devotion stop at warm thoughts about God's heart being pierced by a lance, as is recounted in today's Gospel?
Does it stop at the amazing reality that many Eucharistic miracles have been blind tested by scientists all over the world and they all confirm that the host that had become flesh is living heart tissue of a man who has been brutalized?
Does our devotion stop at the fact that Our Lord has appeared twice to bring awareness to the Universal Church that His Sacred Heart is the fount of Divine Mercy from which blood and water gush forth as expiation and salvation for the whole world?
God's love for us is "crazy" or stated in a more sanitized fashion; "God's love for us is other. God is Other." His Sacred Heart is limitless love and mercy, and therefore our devotion to Him can always be growing and always be more and more total.
Today's Solemnity is the perfect opportunity for us to run to the Lord with our hearts and to ask Him for the great-grace of receiving His abundant love. Today we can ask for the great-grace of loving God with our whole minds, hearts, souls, and strength and our neighbor as ourselves for love and obedience to Him who St. John says, "loved us to the end."
His Heart is outside of His chest. His Heart is burning and pining for love. The only way to satiate our Lover's thirst is to return love for love. Let us set no bounds to our devotion.
And not only that, but we can also count on St. Paul who says, "God is never outdone in generosity." So I pray that today you and I will experience a huge influx of His infinite grace in our hearts, minds, and souls. We were made for this. We were made to be in communion with His Sacred Heart and to adore Him for all eternity.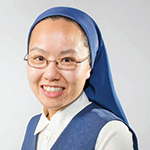 Sr. Maria Kim-Ngân Bùi is a Daughter of St. Paul, women religious dedicated to evangelization in and through the media. She has a degree from Boston College and the Augustine Institute. She has offered workshops, presentations, and retreats around the country. She currently serves as the head of marketing and sales at Pauline and one of the guides of Spiritual Accompaniment—the gemstone of the My Sisters online faith community.