"…for those who trust in you cannot be put to shame. And now we follow you with our whole heart…"
It is never easy speaking about forgiveness when you are aware that there are many truly awful sins in the world that have left us broken. Jesus can often make us feel uncomfortable about how easy he makes forgiveness sound. I believe the passage above in the First Reading can be a key to unlocking the mysteries of mercy in the Scriptures today. Because He loved me first, I can now love. Because He poured out His mercy upon me, I can now give mercy. In the First Reading, we hear about the pain of Israel. We hear how they have been stripped of everything, even their rituals for worship. All they had left was their hearts which needed a reset with their relationship with God. It seems to me that there is a common misconception in our Church culture that a person cannot approach God till they have dealt with their sin. True we need to repent, however, it has been my experience that if we expect that we will be able to do this before we can approach God, we will fail and cause a lot of harm along the way.
Peter asks Jesus an interesting question in the Gospel today, "Lord, if my brother sins against me, how often must I forgive him? As many as seven times?" After hearing this question all my life, I have often laughed at Peter. But as I have gotten older, I have become more aware of my own continuous need for forgiveness and aware of the pain others have caused me. I have a better understanding of why Peter thought he was being gratuitous by offering forgiveness seven times. Depending on who and how they hurt me, it can be overwhelming to forgive someone even once.
A few years ago, I was struggling to forgive someone. It seemed that every time I was able to let go and offer my pain to Jesus, this person would hurt me again. I took this constant cycle to Jesus in prayer and I remember Jesus asking me, 'do you want me to give mercy or justice to this person?' I remember wanting to cry out for justice. But I remembered this parable and Jesus saying, "as you forgive, you will be forgiven." I started to trust that Jesus would help this person and it was not up to me to exact justice, no matter how satisfying it might have sounded. I needed to trust that Jesus would show mercy to me for all the people that I had hurt, especially those I did not realize I had hurt. I needed to trust that Jesus could and would make a difference in this person's life and that difference would be far more productive than my own.
I think the key to forgiveness is this: by being in a relationship with Jesus we can learn to trust Him. We begin to see the change that His love does to us. We are then free to give Jesus the space to handle the person that hurt us because we know that real change can happen in that person, just as real change happened in us. More importantly, our minds will be freed from obsessing about what we would say if given the chance to show the person how wrong they are and the injustice of their words and actions.
Featured Image Credit: Sora Shimazaki, https://www.pexels.com/photo/judgement-scale-and-gavel-in-judge-office-5669602/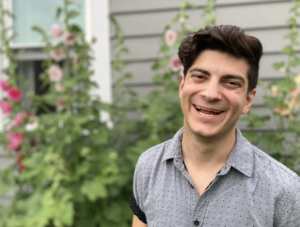 Arthur Richardson is married to his wonderful wife, Gabby Richardson. They will be married for two years this January! Most of his work experience is in ministry. He was a retreat missionary in Wisconsin for two years and a youth minister for three years. He is now the Web Project Manager here at Diocesan, and loves it!