"Peace I give you." These words are some of the most important words found in the Gospel readings from today. Jesus is offering us peace for our troubled souls. He reminds us that we are not to be afraid or troubled, for we are given the Holy Spirit to help us every day. Jesus' peace is an internal experience. We can come to identify this peace and learn to trust that God is with us even when life is hard.
Heavenly peace is accessed through prayer, obedience to God, and learning to trust Jesus. We must be aware that the ruler of this world- Satan, wants to destroy our peace. The devil rules by fear and intimidation and wants us to believe that all there is to life is what we can see with our eyes. The devil lies, tricks, and is called the "prince of this world" and can offer us short-term pleasure but for an eternity of pain and suffering. Please do not run from your hardships but rather give them to Jesus and be sanctified and even transformed by your suffering. Jesus wants to help you through these difficult seasons of growth and give you the peace you need to endure. When we live in the peace of Christ, we also serve as an example to others.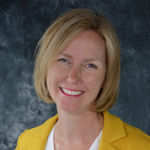 Emily Jaminet is a Catholic author, speaker, radio personality, wife, and mother of seven children. She earned a bachelor's degree in mental health and human services from the Franciscan University of Steubenville. She is the co-founder of www.inspirethefaith.com and the Executive Director of The Sacred Heart Enthronement Network www.WelcomeHisHeart.com. She has co-authored several Catholic books and her next one, Secrets of the Sacred Heart: Claiming Jesus' Twelve Promises in Your Life, comes out in Oct. 2020. Emily serves on the board of the Columbus Catholic Women's Conference, contributes to Relevant Radio and Catholic Mom.com.
Feature Image Credit: Cathopic, https://www.cathopic.com/photo/4517-joven-contemplando-creacion