"God looked at everything he had made, and he found it very good." This passage always warms my heart, but I have still often wondered why God would desire to become human. It is easy to look at the mountains, the rivers and lakes, the sandy beaches and see that it is very good. I often love to sit with a cup of coffee and watch the sun rise on these beautiful scenes and take it all in for a few moments. On the other hand, human beings have so many limitations and we are talented at twisting the perspectives of others and even ourselves in order to attempt to justify ourselves. If you doubt that, listen to Jesus' words repeating the prophecy of Isaiah towards the Pharisees, and oftentimes – each of us.
"This people honors me with their lips, but their hearts are far from me; in vain do they worship me, teaching as doctrines human precepts."
In my experience, there is one major struggle that anyone that has been trying to live out their faith for more than a few years experiences, the question of confidence in justification. Some examples of what this might look like are: fear of my past or repeated sins, anxiety about being perfect (this does not include those who struggle with mental health issues), trying to convince others that my perspective is the only perspective, my way to be Catholic is the only way to be Catholic.
You see, the Pharisees were more concerned with the Messiah looking like them rather than looking like the Messiah. The difference is a simple one: am I willing to learn or do I assume I am the one to teach? In my experience, those who had a positive impact on my life were people who knew they were not performing for God but allowing themselves to be corrected, formed, and allowed God to fill in the gaps where they lacked. And in my experience, those who had a negative impact on me thought that their way was the correct one, that they knew the fullness of God's will and His laws and were the ones who thought that they were my savior.
I don't think the main theme of today's readings is about the Sabbath or how Jesus corrected the Pharisees. I think the message that the Holy Spirit wants to reveal is that what God made is to be very good because God is very good. The paradox is that the Law cannot make us good, but having the humility to listen to Jesus correct us where and when we need Him to, to have confidence in Him as the Gardener of our souls, not ourselves. In other words, do I see myself as the one in charge of my salvation or is it Jesus? Am I the student or the teacher? The disciples did as Jesus did, and the Pharisees became defensive because Jesus did not perform a practice they thought their salvation depended upon. In Matthew 19:26 Jesus speaks about earning heaven, "For human beings this is impossible, but for God all things are possible." Only God has the power to make even me very good.
---
"Vio Dios todo lo que había hecho y lo encontró muy bueno." Este pasaje siempre conmueve mi corazón, pero todavía me he preguntado a menudo por qué Dios desearía hacerse hombre. Es fácil mirar las montañas, los ríos y los lagos, las playas de arena y ver que es muy bueno. A menudo me encanta sentarme con una taza de café y ver salir el sol en estas hermosas escenas y asimilarlo todo por unos momentos. Por otro lado, los seres humanos tenemos tantas limitaciones y tenemos el talento de torcer las perspectivas de los demás e incluso de nosotros mismos para tratar de justificarnos. Si lo dudas, escucha las palabras de Jesús repitiendo la profecía de Isaías hacia los fariseos y, muchas veces, hacia cada uno de nosotros.
"Este pueblo me honra con los labios, pero su corazón está lejos de mí. Es inútil el culto que me rinden, porque enseñan doctrinas que no son sino preceptos humanos."
En mi experiencia, hay una gran lucha que experimenta cualquier persona que ha estado tratando de vivir su fe por más de unos cuantos años, la cuestión de la confianza en la justificación. Algunos ejemplos de cómo podría verse esto son: miedo a mi pasado o pecados repetidos, ansiedad por ser perfecto (esto no incluye a aquellos que viven con problemas de salud mental), tratando de convencer a otros de que mi perspectiva es la única perspectiva, a mi manera de ser católico es la única manera de ser católico.
Los fariseos estaban más preocupados de que el Mesías se pareciera a ellos en lugar de que ellos se parecieran al Mesías. La diferencia es simple: ¿estoy dispuesto a aprender o tomo por hecho que soy yo quien debe enseñar? En mi experiencia, aquellos que tuvieron un impacto positivo en mi vida fueron personas que sabían que no estaban actuando para Dios sino que se dejaban corregir, formar y permitir que Dios llenara los vacíos que les faltaban. Y en mi experiencia, aquellos que me impactaron negativamente pensaron que su camino era el correcto, que conocían la plenitud de la voluntad de Dios y sus leyes y fueron los que pensaron que eran mi salvador.
No creo que el tema principal de las lecturas de hoy sea sobre el sábado o cómo Jesús corrigió a los fariseos. Creo que el mensaje que el Espíritu Santo quiere revelar es que lo que hizo Dios debe ser muy bueno porque Dios es muy bueno. La paradoja es que la Ley no puede hacernos buenos, sino tener la humildad de escuchar a Jesús corregirnos donde y cuando lo necesitemos y tener confianza en Él como el Jardinero de nuestras almas, no en nosotros mismos. En otras palabras, ¿me veo a mí mismo como el encargado de mi salvación o es Jesús? ¿Soy el estudiante o el maestro? Los discípulos hicieron lo que hizo Jesús, y los fariseos se pusieron a la defensiva porque Jesús no realizó una práctica que pensaban que era importante para la salvación. En Mateo 19:26 Jesús habla acerca de ganarse el cielo: "Para el hombre esto es imposible, pero para Dios todo es posible". Sólo Dios tiene el poder de hacerme muy bueno.
Featured Image Credit: Franck Denis, www.pexels.com/photo/sacred-heart-of-jesus-painting-with-brown-frame-2340768/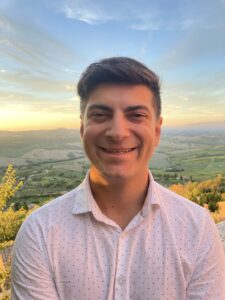 Arthur Richardson is married to his wonderful wife, Gabby Richardson. Most of his work experience is in ministry. He was a retreat missionary in Wisconsin for two years and a youth minister for three years. He is now the Web Project Manager here at Diocesan, and loves it!