If you missed the last two posts, here they are. They were accidentally posted out of order. We apologize for the inconvenience.
---
Today's readings are among the longest and most rich that we experience at a Sunday Mass. It is sad that we can't all experience Mass in a normal way during this Palm Sunday, but we can still dive into the living word.
Instead of writing a novel to start to unpack the rich teachings in the readings, I wanted to include a video reflection that I was asked to record for the Diocese of Kalamazoo on today's readings. I hope this is a blessing to you as we enter Holy Week. Know of my prayers for you and for health. God Bless!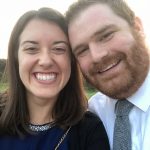 Tommy Shultz is Director of Evangelization for the North Allegan Catholic Collaborative and the founder of Rodzinka Ministries. In these roles, he is committed to bringing all those he meets into a deeper relationship with Christ. Tommy has a heart and a flair for inspiring people to live their faith every day. He has worked in various youth ministry, adult ministry, and diocesan roles. He has been a featured speaker at retreats and events across the country. His mission and drive have been especially inspired by St. John Paul II's teachings. Tommy is blessed to be able to learn from the numerous parishes he visits and pass that experience on in his presentations. With a degree in Theology from Franciscan University, Tommy hopes to use his knowledge to help all people understand the beauty of The Faith.